Free Food Friday – a great prize every week!  Enter now for your chance to win on Friday.
Win Dinner for 2 at Biddy Mulligan's, La Cala!
Every Friday afternoon you can win a €50 voucher to spend on dinner for two at Biddy Mulligan´s in La Cala.  Enter our competition to win a starter, main course, and a drink for two people. You can use your winner's voucher anytime within a week of winning it!
Tune in on Friday at 5.30pm to find out if you have won!
To enter, answer this simple question:
Which of these places in in Ireland?
a) Aberystwyth
b) Cork
c) Loch Ness
Previous winners:
Matthew in Calahonda
Lesley in Calahonda
David in Calanova Sea Gold
Amanda in Fuengirola
Samantha in Mijas Costa
Andrea in Los Pacos
Jon in Fuengirola
Dean in Mijas Costa
Rita in Mijas
Roy in Mijas Golf
Paul in La Cala
Jan in La Cala
Jackie in Montemar
Alison in Riviera Del Sol
Davina in La Noria
Paul in Monda
Lorraine in Mijas Costa
Andrew in Fuengirola
Barbara on the Costa Del Sol
Roy in Fuengirola
Alison in Riviera
June in El Faro
Jackie in Calahonda
Raquel in La Cala
Julie in La Cala
Gary in Alhaurin
Julie in Calanova
Jodie in Fuengirola
Jackie in Mijas Golf
Davina in La Cala
Peter Hammond in Mijas Golf
Chris in Fuengirola
Steve Starkey In Mijas
Susan in Calahonda
Sandra in Riviera Del Sol
Susan in Fuengirola
Elaine in Alhaurin de la Torre
Lynn in Mijas
Terry in La Cala
Patricia in Fuengirola
Mark in Calahonda
Harriet in Fuengirola
Ian in Calahonda
Daz Peel from Riviera Del Sol
Sarah Markland from Cerros Del Aguila
Jolene Ronan from Fuengirola
Mollie Jones on the Costa Del Sol
Brian and Tina from the Costa Del Sol
Shelby Spencer from the Costa Del Sol
Jane Watson from Mijas
Sarah from Marbella
Lyn Grigg from Calahonda
Mandy Brown on the Costa Del Sol
Lesley and Peter who said:
"We were royally looked after by Dave and his team Brandon, Kayleigh and Janet who served us with their fabulous steak and ale pie and Irish Stew. We finished off with a fantastic Irish coffee. We would highly recommend this bar. Thanks again"
See Biddy's Menus down the page…
Biddy Mulligan's Menus
(Sorry, they're a little blurred, but click on each one and you'll see a nice, big, readable version!)
More Competitions from 93.6 Global Radio
Tune in on your radio on 93.6fm or here online by clicking "Listen Live" at the top of the page!  As always, check out the General Competition Terms & Conditions.
Summary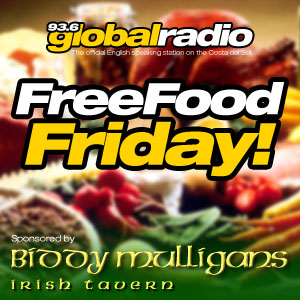 Article Name
Free food Friday Competition, 93.6 Global Radio
Description
Every Friday afternoon you can win free meals out at some of the Costa del Sol best restaurants and eateries! FREE to enter! FREE FOOD!
Author