Music Story Day 2 – the 80s and 90s musical bonanza in Benalmadena raising money for Cudeca
Music Story Day 2
93.6 Global Radio and The Cudeca Goldies are proud to present two nights of entertainment at the stunning open air Benalmadena Auditorium.  Music Story will feature a fantastic line up of live musicians from 7pm to 12am on Saturday the 23rd and Sunday the 24th September 2017
MusicStory covers every type of music for your complete music tribute experience, from Rock n Roll including Elvis, The Beatles, Motown Classics, Neil Diamond, Abba, classic rock including the best Queen Tribute on the coast, Tina Turner, Donna Summer, Bob Marley, Madonna, Fleetwood Mac and everything in between. The list goes on and on for your ultimate knees up
On Saturday the theme will be 50s, 60s, and 70s music.  On Sunday the theme will be 80s,  90s, current music. Both evenings will be hosted by 93.6 Global Radio presenter Dave James, and Steve Kline.   Tickets are only €10 for each night.
The lineup is constantly growing, here are the confirmed artists so far!
Sunday 24th September:
Deborah Dee,
Laura Elen,
Matt Rivers,
Loz Carter,
Banana Studios,
Stereo 80s,
Mr Maph,
Rising Stars,
Terry Shaunessy,
Magnet Man,
Queen Finale with Denyse Sanchez,
Reality Duo,
Dirty Little Secrets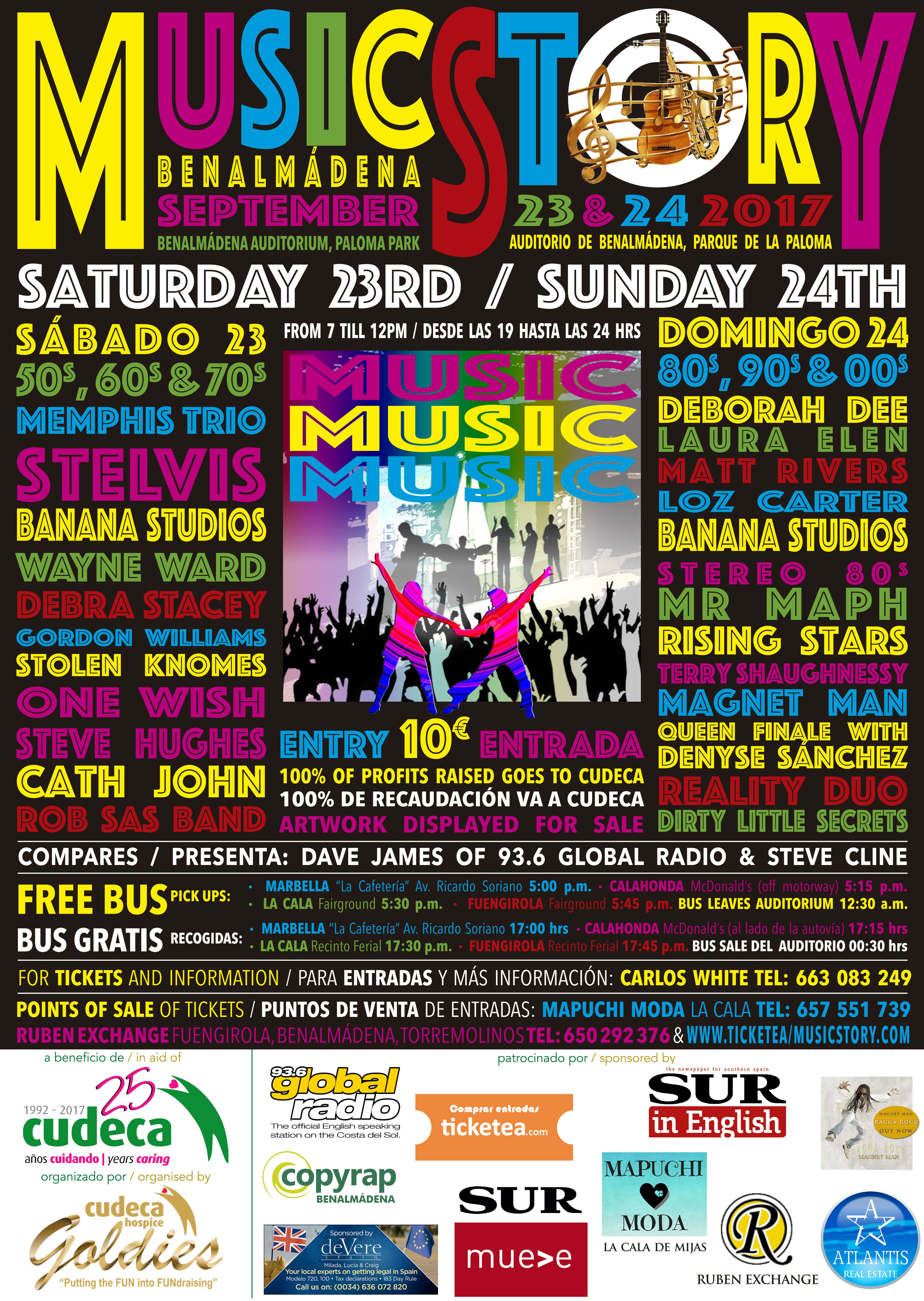 Tickets For Music Story
Tickets are available from Wednesday 26th July at the Ruben Exchange offices in Fuengirola, Torremolinos, and Benalmadena.  Also from Mapuchi Moda at Jardin Botanico, La Cala. You can also get tickets online at www.ticketea.com
Free busses will be available from Marbella at La Cafeteria Av Ricardo Sorianoat 5.00pm,  stopping at McDonald's Calahonda at 5.15pm, La Cala feria ground at 5.30pm, and Fuengirola feria ground at 5.45pm.  The return bus leaves the auditorium at 12.30am
Cudeca Christmas Raffle Launch
The Cudeca Goldies will be launching their Christmas Raffle at this event, where you will be able to buy tickets.  The grand prize this year will be a beautiful white Renault Clio Life with a 1.2 petrol engine.