Devastating Fire Doubles In Size.  The fire which has been raging on the Costa Del Sol since Wednesday evening now has an 85km perimiter.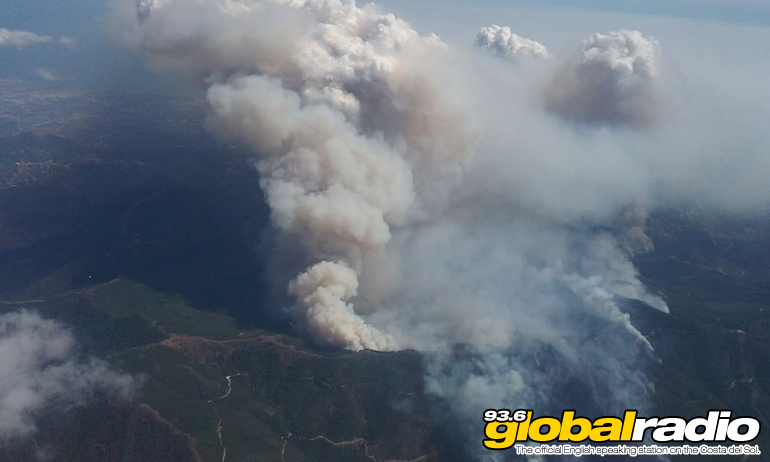 Devastating Fire Doubles In Size
Fire fighters continue to battle the devastating blaze on the Costa Del Sol, which has doubled in size in less than a day.  On Saturday the blaze had a 42km perimiter, today the fire has spread out to an 85km perimiter.  The military have been brought in to help with containment and evacuations.  260 troops are working along firefighters.
2670 People Evacuated
The fire is currently spread across four municipalities near Estepona.  These are Jubrique, Genalguacil, Estepona and Benahavís.  A total of 2670 people have been evacuated from their homes and are now being housed in emergency accomodation.  There has been good news for a thousand evacuees who have been able to return to their homes in the Estepona and Benahavis areas .
The weather has played a major part in the spread and ferocity of the fire, with the Terral wind pushing up temperatures and advancing the fire.  It's hoped that the weather is turning and heavy rain on Monday night could assist firefighters.  There is more rain forecast on Tuesday.
Costa Del Sol Fire Started Deliberately
The huge fire was started deliberately.  Regional President Juanma Moreno expressed determination to catch the arsonists, saying  "They should know that we're after them. It might take us a month, or tw,o or a year, but we'll find them.  If they're listening to this, they won't sleep well tonight, or tomorrow or, in six months' time, because we'll hunt them down and they will be brought to justice".
Published: 13.09.2021
Written by Dave James
News on 93.6 Global Radio
Keep up to date with all the latest news from the Costa del Sol with the coast's official English speaking radio station, 93.6 Global Radio.
More Costa del Sol News Stories
Some recent headlines from the Costa del Sol. See all the 93.6 Global Radio News