La Cala Car Crash Victim Happy To Be Alive. A Swedish woman involved in a terrifying crash says she is happy to be alive.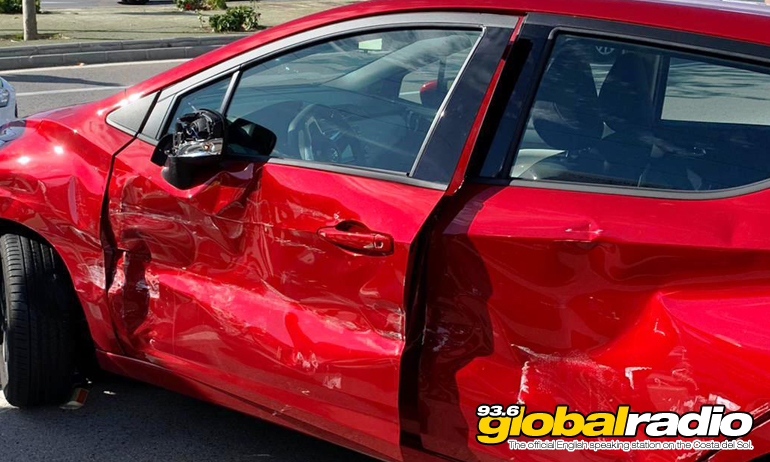 La Cala Car Crash Victim Happy To Be Alive
The victim of a terrifying car crash in La Cala De Mijas has been speaking to 93.6 Global Radio, saying she is happy to still be alive.  Anna, from Sweden, was driving her red hire car along the A7 on Friday when she was hit by a truck and pushed for almost 2km, before British chef Steven Saunders was able to attract to the driver's attention.
In shocking video caught by Steven Saunders (below), the lorry can be seen pushing Anna's car along a slip road before finally coming to a halt.  Mr. Saunders rushes to help Anna, and is told by the trucker that he didn't see or feel the bright red car hooked onto the front of his lorry.
Car Driver Suffers Neck Injuries
Today Anna has revealed that she has suffered back an neck injuries, and is severely stressed by the crash which is affecting her sleep.  The Swedish woman, who works as a consultant in Stockholm, was spending time in Mijas Costa at a holiday home she bought four years ago.
Anna explains how the crash happened in her own words.  "I was driving slowly in the right lane [on the A7]. The big lorry came in parallel to me, in the middle lane and suddenly he crossed into my lane. In a second, my car spun up in front of him. I was definitely not trying to surpass him and I was at a good distance from the white markings to the middle lane. He kept pushing me without diminishing his speed for what I felt as an eternity but was probably 1-2 km."
"I Thought I Was Going To Die"
"I was of course shocked and scared that he would run over me or that my car would flip over on its roof." Anna said. "It was like a horror movie.  I was thinking maybe he has had a heart attack or is sleeping as there was no sign of him slowing down at all. "
Anna says she feared for her life.  "Then I realised he was turning to the right at this exit and I got even more terrified as the road got narrower, turning and the curb showing up. This was the third time I thought I was  going to die. Finally he stopped as he had to at the roundabout".
Truck Driver Not Concerned
When the driver emerged from his truck, Anna says he showed no concern for her well being.  "He stepped out of his vehicle he said – where did you come from? He was not helping me or apologising at all. Neither grateful or happy to see me being alive."
"Why Didn't He Slow Down?"
The truck driver claims he thought he'd had a tyre blowout on the motorway.  Anna says "He claimed that he thought he had had a tyre explosion but even so, why didn't he slow down his vehicle at all?".  
The truck driver is now laying the blame for the horror smash on Swedish driver Anna.  She is adamant she did nothing wrong.  "I have never overtaken any car on the right hand side and the idea wouldn't cross my mind. Makes me upset to understand he is blaming me for this accident where it should be obvious to anyone that he has been totally negligent."
Anna is grateful to the police for their fast response, and to Steven Saunders for capturing some of the crash on video.  "The only one who stopped to care for me was the guy who had had time to pick up his phone and filmed the last part at the exit. The police were there very quickly and acted very professionally. I want to thank the witness who made the film and also the car rental company for being so supportive.  This is probably the worst moment in my life."
Published: 15.12.2019
Written by Dave James
News on 93.6 Global Radio
Keep up to date with all the latest news from the Costa del Sol with the coast's official English speaking radio station, 93.6 Global Radio.
More Costa del Sol News Stories
Some recent headlines from the Costa del Sol. See all the 93.6 Global Radio News