Santa Is Coming To The Costa Del Sol Tonight.  Weather conditions are perfect for sleigh flying tonight, make sure you leave out a mince pie for Santa.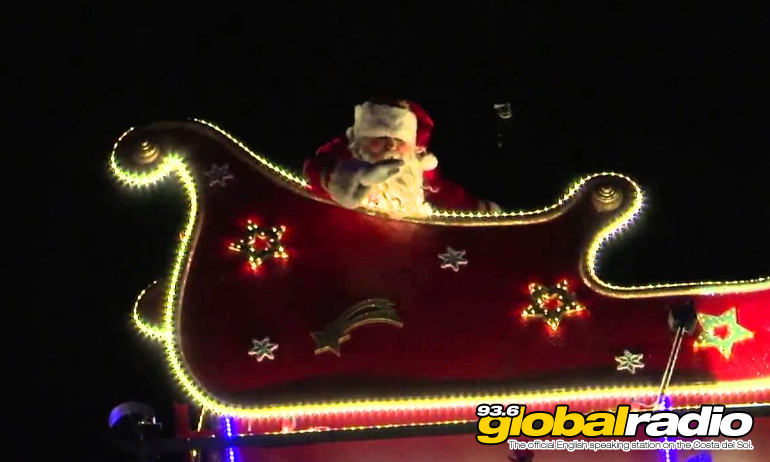 Santa Is Coming To Spain Tonight
Spanish Air Traffic Control (AENA) has approved Santa's flight plans which will allow him to fly through Spanish air space tonight.  A spokesperson told 93.6 Global Radio "We have examined the proposed route and are satisfied that it will allow Santa to safely navigate the skies over Spain".  Weather conditions are ideal for Santa's journey, with just a light cloud covering and no rain expected.
Where Is Santa Now?
It is now possible to track Santa's progress in real time thanks to NORAD.  The North American Aerospace Defence Command (NORAD) are responsible for monitoring man made objects in space, and tracking missiles and other potential threats to North America.  At this time of year though, they turn their high tech tracking devices to the North Pole and follow Santa's flight path around the world.
Get An Early Night
Make sure you're in bed before he reaches the Costa Del Sol or he might not be able to visit you.  Traditionally, Santa likes to land his sleigh on the roof of your house and make his entry through the chimney.  He always appreciates some milk and mince pies (or possibly a tipple of something stronger) which he can share with the reindeer who pull his magical sleigh.
What If I Don't Have A Chimney?
No chimney? No Problem! Santa is very much the modern man.  He knows that many children here on the Costa Del Sol live in apartments or houses without chimneys.  Santa now carries a magical key which can open any door to make sure that everyone gets their presents in time for Christmas morning.
How Many Children Will Santa Visit?
It's thought that he will visit 1.6 billion children who are on the "good" list this year.  He has to be very fast of course, but because of the different time zones he actually gets 32 hours to deliver presents on Christmas Day.  Santa will have to make 640 million stops on Christmas Eve.
Mince Pies
Santa loves mince pies.  If everyone he visits gives him a mince pie and milk, he will eat an enormous 150 billion calories on his trip around the world.  No wonder Mrs. Claus puts him on a diet every January!
Wrapping Presents
Santa doesn't have time to wrap all the presents himself.  He has a team of dedicated Elves who do this for him.  The Elves are expert present wrappers, and can wrap a gift in 10 seconds.  To make sure that every child gets at least two presents, Santa has a team of 3000 Elves who work 8 hours a day for an entire year to get ready for Christmas.
Boxing Day
Every year Santa looks forward to a well deserved rest on Boxing Day.  He spends the day with Mrs. Claus, his hard working Elves, and of course the reindeer.
Written by Dave James
News on 93.6 Global Radio
Keep up to date with all the latest news from the Costa del Sol with the coast's official English speaking radio station, 93.6 Global Radio.
More Costa del Sol News Stories
Some recent headlines from the Costa del Sol. See all the 93.6 Global Radio News