Eat in or Take Away Pizza – and a Whole Lot More, right in Cabopino!
Recently renovated, Cabo Pizza is the brightest place to eat and drink in Cabopino!  Mouthwatering pizzas, plus a lot more on the fabulous menu!
Welcoming service eat in, take away or pick up food or drink, in the East Marbella area, join us at the bar for a drink you are always welcome!
Frequent Live Entertainment
Takes Reservations
Walk-Ins Welcome
Good For Groups
Great For Kids
Take Out & Home Delivery
Waiter Service
Outdoor Seating
Cabo Pizza Menu
CALL for HOME DELIVERY – 952 83 13 72
Find Cabo Pizza in Cabopino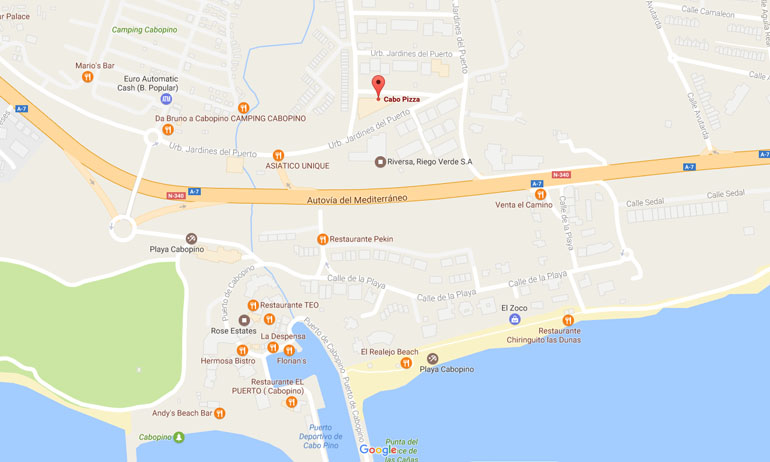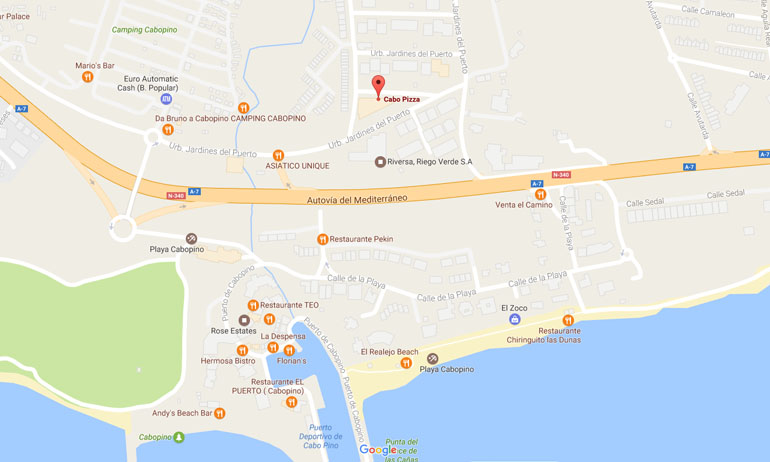 Cabo Pizza, Cabopino, Marbella, Spain.
For home delivery, call 951 66 87 62 or WhatsApp +34 666 33 55 25
Open from 5:00pm to midnight every day except Tuesdays.
Always a Great Night at Cabo Pizza
Had a great time at the 2016 Cabo Cup. The event was very well organised with a great attention to detail. The presentation at Cabo Pizza on Sunday evening was fantastic. Great pizza's, brilliant entertainment and what really makes the difference, friendly staff that all look as if they are enjoying themselves as much as the patrons.  A great place to relax and enjoy yourself.
John
Cabopizza has always been a great place to eat and drink in cabopino, it's off the 'beaten track' a little as it isn't in the port area but the friendly atmosphere and good value food makes it worth seeking it out and the new management has made it bigger and for families looking for somewhere to go of an evening it's still open from five pm so the kids can eat early and stay late with the adults as there is no rush here. Thoroughly recommended!
Robert
Just come back from two weeks in Spain. Cabopizza is our local, good food especially the Steak and Guinness pie! I know, not a pizza but it shows the menu is much more than that. Great company and thanks to Gerry and all the staff for helping to make our holiday very enjoyable.
Colin