Win Fabulous Furniture – with 93.6 Global Radio and Mabrideco Furniture!
Congratulations to SHARON in Fuengirola!
Our winner!  Sharon chose the Stressless Chair as her prize and will be visiting Mabrideco to collect it soon.  Here she is with Patricia from Mabrideco and Dave James, trying out her prize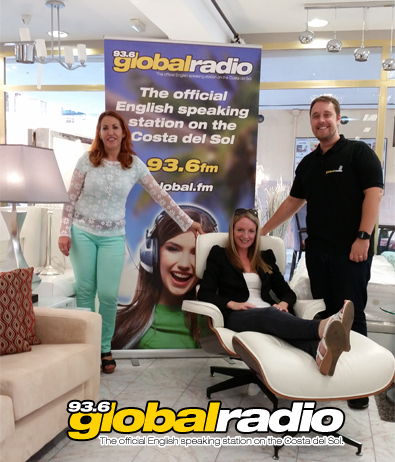 Listen to the moment that Sharon found out she was our lucky winner:
Win Fabulous Furniture
Enter our great competition now, and you could win your choice of three fabulous furniture sets from Mabrideco in Calahonda.  First, have a look at these great furniture sets and decide which one you would like to win.
1.  Stressless Chair
This is a Mabrideco Stressless white  leather armchair with foot stool worth €1177
2.  Bedroom Set
This Mabrideco Bedroom Set consists of 2 bedside cabinets + 1 chest of drawers + 1 mirror all lacquered in White with silver decoration worth €1469
3.  Entrance Set
Mabrideco Entrance Set consisting of tall cupboard with shelves + full legth mirror + bottom unit with drawers , White lacquered with silver decoration worth €1426
See these fabulous furniture sets now in the Mabrideco Showroom at Calahonda.
Enter The Competition
Simply tell us which fabulous furniture set you'd like to win, and complete this sentence with 50 words or less:
"I'd like to win fabulous furniture from Mabrideco for my home because…"
Competition closes at midnight on Sunday 30th October.
The winner will be announced on the Dave James show on Monday 31st October 2016 and contacted by telephone.