My Fair Lady At Salon Varietes.  The hit musical with local stars can be seen at Salon Varietes in Fuengirola from the 17th to the 26th March.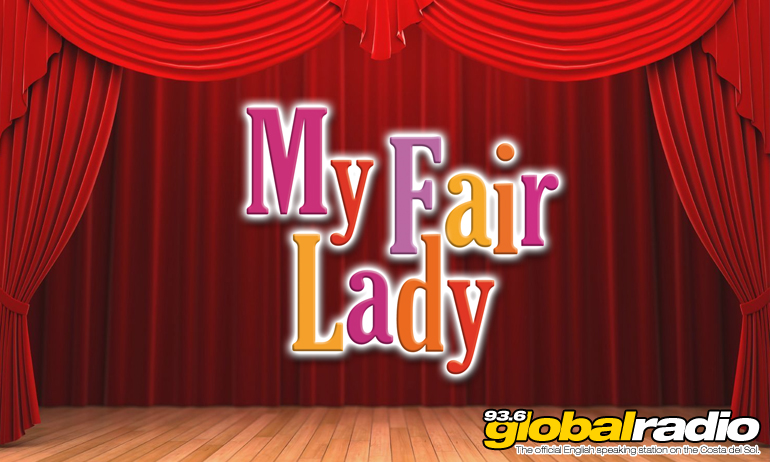 My Fair Lady At Salon Varietes
The delightful story of My Fair Lady centres around Eliza Doolittle, a cockney Flower Girl who meets an
esteemed Professor of speech and linguistics, Henry Higgins at Covent Garden Market.
The 1964 American musical comedy-drama film, starring Audrey Hepburn and Rex Harrison was adapted
from the 1956 Lerner and Loewe stage musical based on George Bernard Shaw's 1913 stage play Pygmalion.
The Salón Varietés Theatre's production takes inspiration from both stage and film, along with exquisite costumery, musical production and choreography.  Professor Higgins and his new colleague Colonel Pickering make quite a public fuss over Eliza's unrefined language skills, and in jest, Professor Higgins boasts that he can teach Eliza to speak, passing her off as a lady of the highest society within 6 months.  Eliza is intrigued and accepts. Alfred Doolittle, Eliza's father, brings humour to the story with his attempts to capitalise on Eliza's new lifestyle.
Despite Professor Higgins' stubborn way and the relentless vocal coaching, Eliza persists, with the help and support of Colonel Pickering and the housekeeper, Mrs Pierce, she blossoms into a lady ready for Royal Ascot and a Royal Ball. Eliza catches the eye of Freddie Enysford Hill and, smitten by her beauty and street style "small talk", pursues her and eventually woos her to leave Professor Higgin's discipline and begin a life with him.
Throughout the story, Eliza and Professor Higgins become more entwined into each other's lives, bickering often but also finding that they rely on each other's company. A fondness that warms as it grows – Eliza and Henry might not be able to do without each other….
My Fair Lady starring Melissa Carver as Eliza, Tim Alexander as Prof. Higgins, Peter Oliver as Colonel Pickering, Sheila Sanderson-Wohlmuth as Mrs Pearce, Nathan Homan as Freddie Enysford Hill, Fiona Poole as Mrs Higgins and Keith Spitalnick as Alfred. P. Doolittle, will run at the Salón Varietés from 17th – 26th March.
The production value reaches the highest quality that you have come to expect from the Salón Varietés Musicals, with musical production from James Burn, Choreography from Alexandra Avery and Direction by John Gale, this show is a powerhouse of talent – one not to miss!
Click here for tickets and more information.