2300 People Evacuated As Forest Fire Spreads.  The blaze which began near Mijas has spread quickly to the Alhaurin aresa where residents have been evacuated.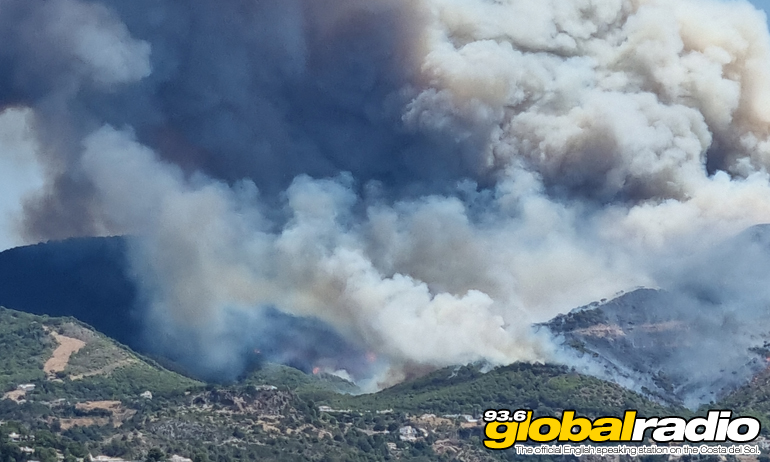 2300 People Evacuated As Forest Fire Spreads
Helicopters, planes, and specialist fire fighting teams are battling a blaze which began on the mountainside near to Mijas at 1pm on Friday 15th July.  Weather conditions have enabled the fire to spread quickly inland, towards Alhaurin El Grande and Alhaurin De La Torre.  More than 2300 residents have been evacuated whilst fire fighters work to bring the blaze under control.
Spreading Twice As Fast As Sierra Bermeja Blaze
There are now 15 aircraft and more than 100 crew on the ground fighting this fire.  Elias Bendodo is the Junta de Andalucia's spokesman, he says "We have mobilised all possible means to try stop the fire evolving badly. We have to try to suffocate it."
The fire is spreading at a speed of 50 metres per minute, almost double the speed of the Sierra Bermeja fire earlier this year.  At times the flames have reached heights of 20 metres.  Efforts to stop the fire are being made difficult by the types of vegetation and trees.  The dense pine trees prevent water being dropped by the helicopters from reaching the fire at ground level.  The pine cones catch fire and explode like small rockets which causes the fire to spread even more rapidly.
Published: 15.07.2022
Written by Dave James
News on 93.6 Global Radio
Keep up to date with all the latest news from the Costa del Sol with the coast's official English speaking radio station, 93.6 Global Radio.
More Costa del Sol News Stories
Some recent headlines from the Costa del Sol. See all the 93.6 Global Radio News