Cala Mijas Festival Attracts Fans From All Over Europe.  100,000 people are attending the three day festival headlined by Florence And The Machine.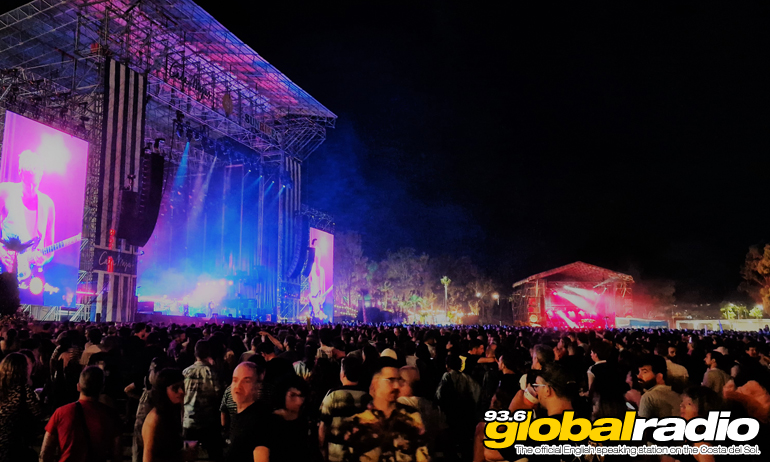 Cala Mijas Festival Attracts Fans From All Over Europe
The second Cala Mijas Festival is proving to be just as popular as last year's event.  100,000 music fans from all over Europe are enjoying the three day event near La Cala De Mijas.  60 bands are performing at the festival including Canadian band Arcade Fire on Thursday Night, American band The Strokes on Friday, and Engish band Florence And The Machine set to headline the event tonight.
Festival guests are once again enjoying their experience here.  93.6 Global Radio presenter Gary Jones is there and says "the atmosphere is fantastic.  There's a sea of people loving the music and partying together.  Arcade Fire on Thurday night were spectacular, a real highlight".
Florence And The Machine
Florence & The Machine are headlining on Saturday night.  Maria and Hans Khun have travelled from Germany and say they've had a warm welcome here.  "Everyone has been so welcoming, there are people of every nationality united by the music.  We're huge Florence fans and can't wait to see the band tonight.  So glad she's recovering from her surgery."
Festival Facilities Being Praised
The facilities are being praised by visitors at Cala Mijas Festival.  Jenny Slater lives in Estepona and is spending three days camping with her partner Terry.  She says "The campsite has everything we need, it's really well managed.  The atmosphere is great we're having the best time!". 
Published: 02.09.2023
Written by Dave James . All photography by Gary Jones.
News on 93.6 Global Radio
Keep up to date with all the latest news from the Costa del Sol with the coast's official English speaking radio station, 93.6 Global Radio.
More Costa del Sol News Stories
Some recent headlines from the Costa del Sol. See all the 93.6 Global Radio News