Fighter Jets Flying Over Costa Del Sol.  Windows will be rattling this week as six F18 fighter jets engage in drills and test flights.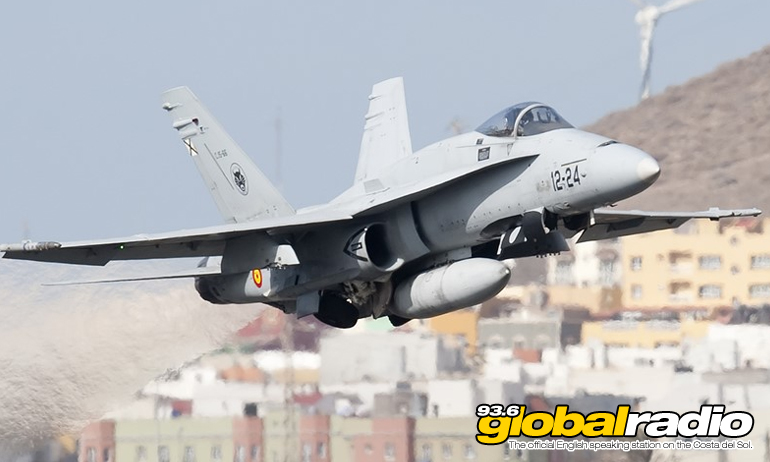 Fighter Jets Flying Over Costa Del Sol
This week the 15th Air Force Wing division are engaged in training flights near Malaga.  Six F18 fighter jets are performing manoeuvres  in the area.  It's likely that sonic booms will be heard from time to time.
Sonic Boom
A sonic boom is the sound associated with the shock waves created whenever a plane travels faster than the speed of sound. Sonic booms generate enormous amounts of sound energy, sounding similar to an explosion or a thunderclap to the human ear.
Torremolinos resident Lee Jackson heard a fly by earlier today.  "The noise was immense" he told 93.6 Global Radio.  "I saw the plane fly past, it was quite low and my office window rattled.  It's an impressive thing."
Spanish Frigate Assisting
Naval vessel "Admiral Juan de Borbon" is now stationed off the Costa Del Sol and is taking part in the exercises, which focus on the Alboran sea area.  The exercises are designed to train pilots engaged directly with enemy air craft.
Published: 17.02.2020
Written by Dave James
News on 93.6 Global Radio
Keep up to date with all the latest news from the Costa del Sol with the coast's official English speaking radio station, 93.6 Global Radio.
More Costa del Sol News Stories
Some recent headlines from the Costa del Sol. See all the 93.6 Global Radio News