Laguna Village Will Be Rebuilt.  Mayor promises fast response to rebuild Costa Del Sol complex destroyed by fire at the weekend.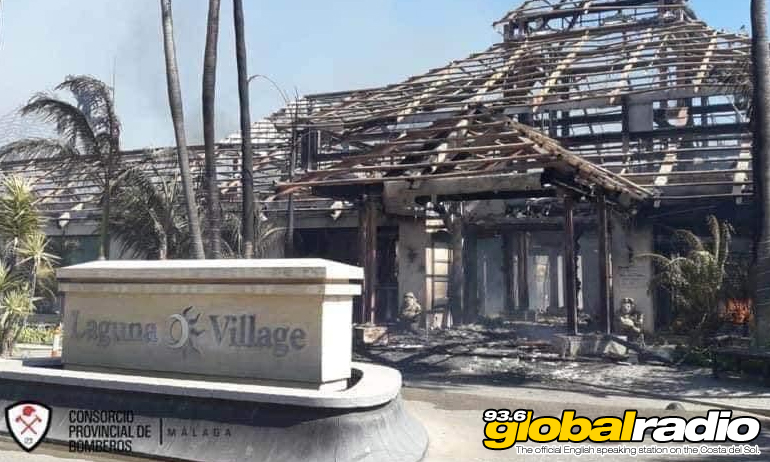 Laguna Village Will Be Rebuilt
The Mayor of Estepona has visited the burned out shell of Laguna Village on the Costa Del Sol, and promised to act quickly to rebuild the complex.  Jose Maria Garcia Urbano said that the council will "expedite and facilitate it's reconstruction".
Wildfire Spread Rapidly
The upmarket complex of shops, restaurants, bars, and the Purobeach club was completely destroyed by fire on Saturday afternoon.  A wildfire broke out in shrubland to the north of the area, and quickly spread to the Laguna Village complex.
The thatched roof of the complex caught fire quickly.  Social media users shared dramatic photos of the blaze ripping through the buildings.
Fireman Treated For Minor Injuries
The nearby Kempinsky Hotel suffered some damage in the fire, as 40 guests were safely evacuated.  40 houses were also evacuated as the fire destroyed 42 hectares of land.  Miraculously no serious injuries were reported, though one fireman has been treated for minor injuries at the scene.
The Mayor of Estepona has thanked emergency services for their fast response to the devastating fire.  "I want to show my support to the employers and workers affected by the fire that has affected the Laguna Village commercial centre.  I also want to thank all the staff and professionals who worked to quickly extinguish this fire."
Published: 31.08.2020
Written by Dave James
News on 93.6 Global Radio
Keep up to date with all the latest news from the Costa del Sol with the coast's official English speaking radio station, 93.6 Global Radio.
More Costa del Sol News Stories
Some recent headlines from the Costa del Sol. See all the 93.6 Global Radio News