Mijas Council Cancels Events.  The Saint Patrick's Day event and a Brexit information talk in La Cala have been postponed because of the coronavirus outbreak.
Mijas Council Cancels Events
The Mijas Ayuntamiento have just postponed two events in La Cala because of the coronavirus outbreak.  A statements says "We are very sorry, but given the fast-moving situation with regard to Coronavirus in Spain, the St. Patrick´s Day on Sunday and the informative talk about Brexit that was scheduled for next Wednesday have been postponed. We aim to reschedule the events as soon as possible and will advise a new date. Thank you for your understanding."
David Reilly from Biddy Mullligan's in La Cala who are supporting the Saint Patrick's Day event says "The Irish Association of Spain has been in constant contact with authorities in recent weeks and we would like to thank them for their assistance. However, as things in Spain have developed in recent days, we were advised on Tuesday that while there was no immediate plan to cancel, postpone or curtail public events or gatherings there was no guarantee that the situation would remain so. We were advised to decide for ourselves. I spent a few hours this afternoon consulting members of the Association and following deliberations it was agreed that we should, in the best interests of all concerned take the difficult but responsible decision to postpone our celebrations."
"We acknowledge that there will be disappointment in the communities affected by this decision but we are in unchartered waters here. This Coronavirus has caused people across the world to make tough decisions for the good of others and that is what we believe we did today. The Irish Association of Spain exists to help people and to lead the way in some cases like with the St. Patrick's Day celebrations. I believe that our decision today keeps us true to those principles."
Malaga city council have also postponed the upcoming film festival as efforts to slow the spread of the virus intensify.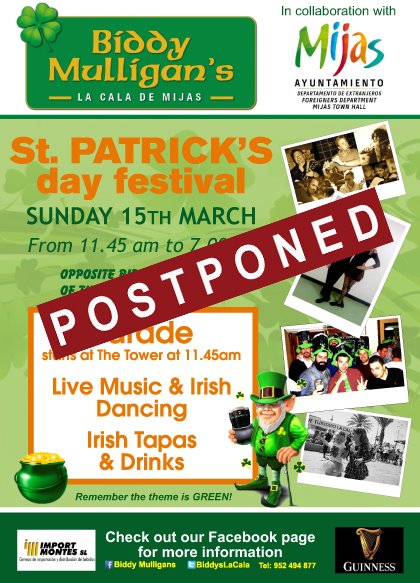 At 14.00 on Wednesday the 11th March, the number of active confirmed cases of coronavirus in Andalucia stands at 84.  Twenty two of these patients are being treated in local hospitals, the rest are recovering in isolation in their own homes.
Across Spain 2182 people have tested positive for the virus, which has caused 49 deaths here.  Infection rates are rising rapidly, as figures show 149 new cases were reported on the 8th March compared to 557 new cases on the 9th March.  138 people have now fully recovered from the COVID-19 virus in Spain.
Coronavirus Mortality Rate
The mortality rate for coronavirus currently stands at around 3.4% globally (source: WHO).  In direct comparison, the flu has a mortality rate of around 1% (source: WHO).
Experts maintain that there is no need for panic, and whilst infection can be unpleasant it is very unlikely to be fatal for anyone in good health.
Protect Yourself From Coronavirus
There are some simple steps you can take to minimise your risk of catching the coronavirus.  The CDC has issued these guidelines:
Wash your hands often with soap and water for at least 20 seconds, especially after going to the bathroom; before eating; and after blowing your nose, coughing, or sneezing.
If soap and water are not readily available, use an alcohol-based hand sanitizer with at least 60% alcohol. Always wash hands with soap and water if hands are visibly dirty.
Avoid close contact with people who are sick.
Avoid touching your eyes, nose, and mouth.
Stay home when you are sick.
Cover your cough or sneeze with a tissue, then throw the tissue in the trash.
Clean and disinfect frequently touched objects and surfaces using a regular household cleaning spray or wipe.
It is not not recommended that people who are well wear a facemask to protect themselves from respiratory diseases, including COVID-19 (coronavirus).
Face masks Not Necessary
Despite the advice not to wear face masks, many pharmacies in the area are reporting that they have sold out.  Chemist Juan Garcia in Malaga is urging people not to buy them until they are needed.  "The face masks are not very effective at preventing you from catching a virus.  Their main purpose is to prevent a carrier from spreading the illness.  It's better not to buy one unless you think you may be exposed.  The best preventative measures would be to use hand gel frequently and maintain good personal hygiene". 
No Panic Buying On The Costa Del Sol
Supermarkets in the UK are running out of products including hand gel, soap, nappies, and toilet paper as people are panic buying and stockpiling because of the coronavirus – but Andalucia remains calm and most stores are well stocked.  Some residents have reported difficulties purchasing sanitising hand gel, but most domestic products are readily available.
Shop owner Dani Moreno in Torremolinos says things remain calm at the moment.  "We've not seen a big rush on domestic items so far.  I've seen the panic buying in the UK on the news and that's worrying.  I hope people here don't overreact to the situation.  If everyone keeps things as normal then there will be no problems for us."
Published: 11.03.2020
Written by Dave James
News on 93.6 Global Radio
Keep up to date with all the latest news from the Costa del Sol with the coast's official English speaking radio station, 93.6 Global Radio.
More Costa del Sol News Stories
Some recent headlines from the Costa del Sol. See all the 93.6 Global Radio News