Mijas Fire Extinguished .  The blaze which began near Valtocado on Sunday morning has been declared "extinguished" by INFOCA.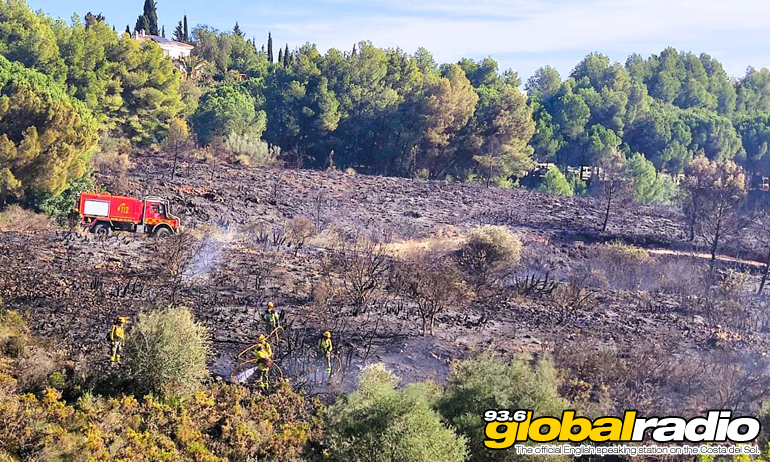 Mijas Fire Extinguished
The blaze which began near Valtocado in the Mijas area on Sunday morning at4a, has been declared "extinguished" by INFOCA.  More than 80 firefighters along with 6 aircraft were involved in the fight to bring the fire under control.  The fire was completely extinguished by 1pm today (Tuesday 14th November).
250 Hectares Destroyed
No serious injuries have been reported. The 300 people who were evacuated from their homes have been able to return.  The blaze has destroyed 250 hectares (2.5 square kilometres) of land.  Several buildings and vehicles were destroyed.
Strong Winds Hampered Firefighters
The fire was spreading south towards La Cala Hills and Mijas Golf at a speed of 30 metres per minute.  Strong winds made conditions difficult for the fire crews, with gusts reaching speeds of 80km/h.
300 People Evacuated
Guardia Civil closed the A387 between Mijas and Alhaurin.  Police evacuated 300 residents from the Rincon Del Hinojal and Lomas Del Flamenco areas.
Published: 14.11.2023
Written by Dave James
Photography and video by Gary Jones, Dave James, Mijas International, and Kevin Smith. 
News on 93.6 Global Radio
Keep up to date with all the latest news from the Costa del Sol with the coast's official English speaking radio station, 93.6 Global Radio.
More Costa del Sol News Stories
Some recent headlines from the Costa del Sol. See all the 93.6 Global Radio News