Music Story raises €8000 for Cudeca. The musical fundraiser organised by the Cudeca Goldies has been a huge success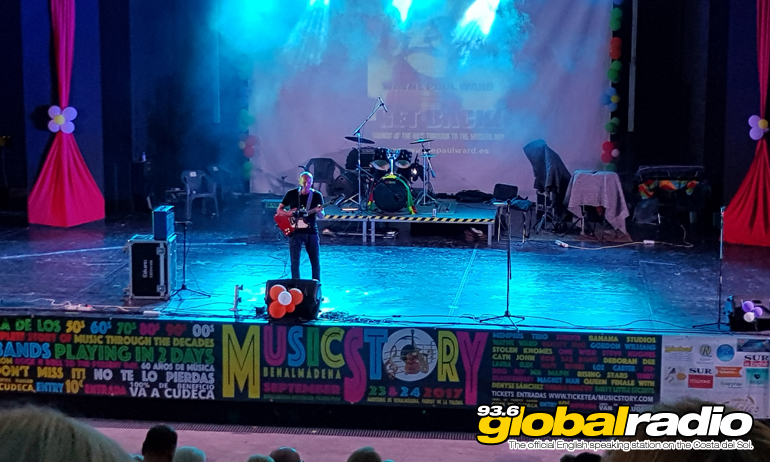 Music Story raises €8000 for Cudeca
Music Story took place on Saturday 23rd and Sunday 24th September 2017 at the Benalmadena Auditorium.  The event was organised by The Cudeca Goldies to raise money for The Cudeca Hospice, which is the only independent facility helping cancer sufferers on the Costa Del Sol.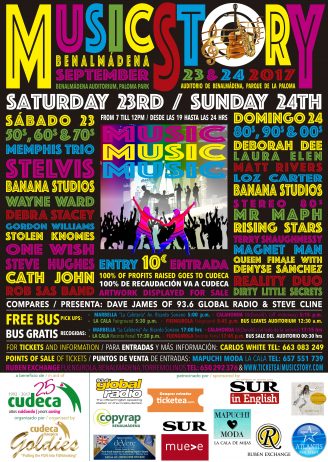 The Grand Total
Carlos White from The Cudeca Goldies told 93.6 Global Radio that "we have done the sums, and after all the necessary expenses were deducted I'm so please to announce that the grand total being handed over to Cudeca is €8002.  That's more than we dreamed possible and I'm so grateful for the support of everyone who came to see the shows, and everyone involved over the two nights."
Live Music
Over the two nights local musicians donated their time to perform to the crowd of excited fundraisers.  93.6 Global Radio's Dave James hosted the events alongside Chris Karle and Steve Cline.   Dave said "€8000 is a huge sum of money, everyone involved should be really proud of this great effort.  Not just the performers, but everyone who was helping backstage, front of house, and in the wings as well."
Spending The Money
The money which is being donated to the Cudeca Hospice will be used to treat cancer patients both in the hospice and in their own homes.  Carlos White says "It costs €200 a day to treat an inpatient. That's for doctors, food, electricity, water, heating, medication, everything.  Over the last 25 years the hospice has treated over 13,000 people.  This money will go a long way in helping the hospice treat the people who really need their help here on the Costa Del Sol".
Published: 27.09.2017
Written by Dave James
News on 93.6 Global Radio
Keep up to date with all the latest news from the Costa del Sol with the coast's official English speaking radio station, 93.6 Global Radio.
More Costa del Sol News Stories
Some recent headlines from the Costa del Sol. See all the 93.6 Global Radio News