Vulture Rescued By Puerto Banus Police.  A disorientated Griffon vulture was rescued from the Muelle de Honor in Puerto Banus by National Police officers.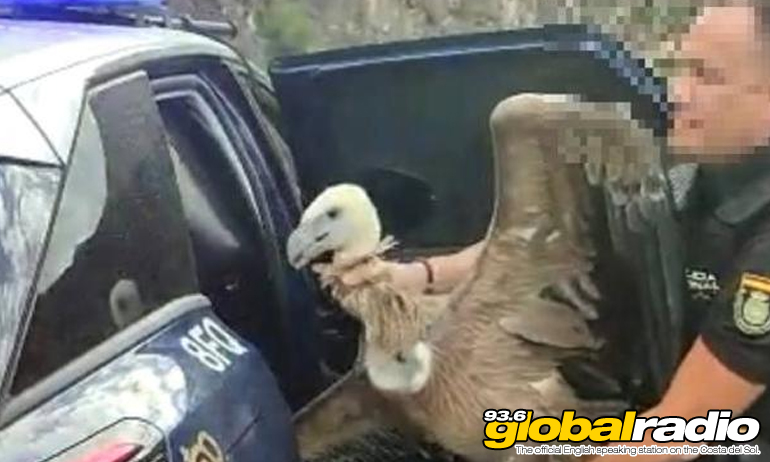 Vulture Rescued By Puerto Banus Police
National police officers were called to the Muelle de Honor next to the marina in Puerto Banus on Friday after a large vulture was seen there.  The disorientated bird was attracting lots of attention from locals and tourists.  Two police officers were advised on the phone by specialists how to handle the bird, and were able to place it in the back of their patrol car (which has a security screen).
The Griffon vulture was then driven to an area close to Marbella and prepared for release into it's natural habitat.  The bird was showing signs of distress and dehydration but was otherwise healthy.  After a few minutes it took flight and hasn't been seen since.
Griffon Vulture
Griffon vultures typically weigh between 7 and 10 kilograms, and can have a wingspan up to 2.8 metres.  They are scavengers, feeding on already dead animals.  The Griffon vulture usually lives in colonies in rocky areas, travelling in flocks.  They can live for up to 40 years.
Published: 12.09.2022
Written by Dave James
News on 93.6 Global Radio
Keep up to date with all the latest news from the Costa del Sol with the coast's official English speaking radio station, 93.6 Global Radio.
More Costa del Sol News Stories
Some recent headlines from the Costa del Sol. See all the 93.6 Global Radio News