Follow Dave on Twitter here
Find Dave on Facebook 
See Dave's Instagram pictures here
Dave James is now available to DJ and host weddings and private events.  Visit his website to find out more!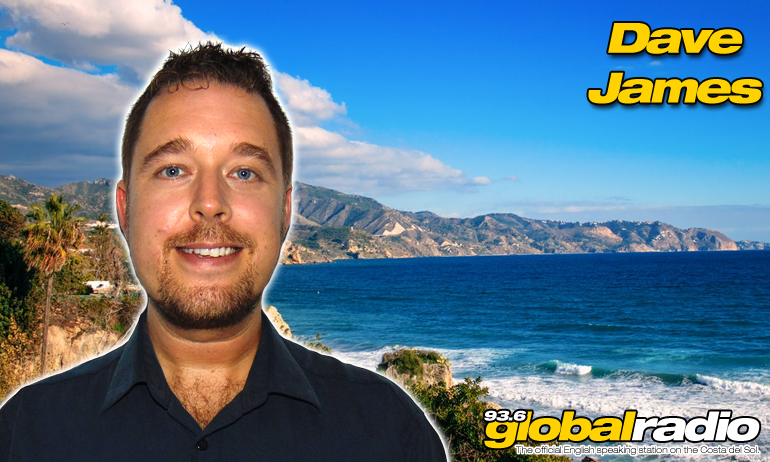 About Dave James
Dave James  is 44 years old, though he'll tell you he's still 32.  Originally from Sheffield, he has also lived in Ireland, Birmingham, Coventry, Leeds, Colchester, and Ipswich.
Dave now lives in a finca near Mijas, with lots of rescue cats, and two crazy rescue dogs.  He spends his time on the Costa Del Sol with his partner Elena, enjoying the local restaurants and bars, exploring the beautiful towns and cities, and relaxing on the beaches.  You may have seen him on Come Dine With Me… he didn't win, he isn't (that) bitter, and he doesn't get royalties every time the show is repeated!
Dave loves to listen to soul music. His favourite artists are Beverley Knight, Aretha Franklin, and Luther Vandross. He also likes Louise Redknapp, though probably not for her musical abilities. Dave isn't really into sport, he doesn't have a clue about football, or rugby, or anything else involving physical exertion. He does love Formula One though, and has collected bits of Grand Prix cars over the years including a front wing flap from Nigel Mansell's 1992 Williams Renault.
On 93.6 Global Radio, Dave will be playing you the biggest hits from the 1970′s right through to the best sounds from today. At 2.30pm you can have a go at Dave's Half Two Hard One – a daily brain puzzle which we play for fun, and at 5pm it's Guess The Year!  Dave's also got the latest local news, weather updates, and live traffic and travel reports.
You can listen to Dave James every weekday from 2pm til 6pm, and Sunday afternoons 2pm til 6pm.
Find Dave James on Twitter here and on Facebook here