Fuengirola Feria.  A fun filled family event with food, drink, live music, and a fairground.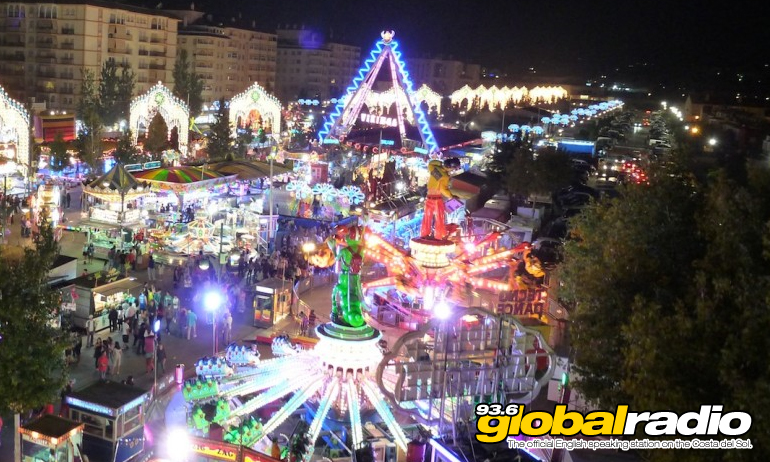 Fuengirola Feria
Starting with the firework display, the 4th of October sees the opening of the spectacular Fuengirola Feria (Feria de Fuengirola).
Another week of food and drinks from all over the world, fun-fair rides, sweets, stalls and street entertainers, the Fuengirola Feris is one of the larger and most impressive of the local Spanish town/city fairs.
If you haven't been before, the fairground is almost half-way between the Fuengirola and Los Boliches train stations, on the Calle Recento Farial road – the usual spot for the Fuengirola Street Market.
It's Busy
Now, one of the more popular ferias in Spain, the Fuengirola Feria gets very busy on, particularly on the Friday and Saturday nights.  If spending 40 minutes, elbowing your way to the bar, only to have the three pints you buy, knocked out of your hands by someone else's elbow, is not your cup of proverbial tea, go during the more quite times.  Common sense really, the earlier in the day, the generally less busy evenings.
All the Fun of the Fair
Plenty of children's fun – noisy merry-go-rounds & dodgems plus some stomach-churning rides for the more adventurous or reckless.
For us, the best thing are the shows and entertainment in the street – firstly, the traditional Andalucian horsemen and women.  They really do look excellent, atop their decorated horses, but turn the corner and you'll run in to a German 'umpah' band, then a bunch of grass-skirted, Hawaiian dancing people will burst out of a casita door.  There really is a lot of stuff going on.
There's a lot of choice of food, but by and large, it's not about fine cuisine.  It's about enjoying street food and a cold beer.  Various burnt animal parts and lashing of lager typifies the fayre.  Vegetarians… take some nuts.
The stroll from Fuengirola center (the train and bus station area) and Los Boliches train station is an easy 20 minutes, with a number of tapas bars along either way.  Also, you'll probably see a load of Spanish women dressed in traditional, Andalucian dresses (the polka-dot ones you see).  That alone is worth the night out.