Radio Advertising in Spain.  Cost efficient marketing and advertising for businesses on the Costa del Sol. Call 952 599 212 today.
WHY RADIO ADVERTISING IN SPAIN?
It's local, emotional and personal
It's flexible
It's immediate and can reach listeners at any day of the week or any time of the day
It's transportable – take it everywhere with you
It's intrusive – you can't close your ears!
It remains one of the most cost effective ways to advertise
Oh, and… IT WORKS! Just ask any of the hundreds of businesses who over the past 10 years repeatedly use 93.6 Global Radio for marketing and advertising along Spain's sunny Costa del Sol.
Call us now!  (0034) 952 599 212
Or email info@global.fm
WHY GLOBAL RADIO?
We broadcast 24 hours a day, 7 days a week from our studios on Miraflores Playa, right between Calahonda and La Cala de Mijas. We remain the first choice for music and Costa del Sol information and to our listeners – our advertising clients are brand leaders.
Our target age range is 25 – 54 year olds, who are quite literally listening anywhere and everywhere! At home, at work and in the car.  Radio is inescapable and we'd love to take you on our journey.
To our listeners and clients, we remain the number one English speaking radio station on the Costa del Sol and thus are the number one media platform for gaining you new customers.
Audience Detail Comparisons by UK based company Radio Response can be seen in our free information pack which you can download from this page

Competitions bring Customers!
Currently, 93.6 Global Radio run two weekly competitions – 'Free Food Friday' and 'Winning Wednesday'.
Free Food Friday
Aimed specifically at restaurants, Free Food Friday promotes competition prizes of free meals.  An example might be, 'A free meal for two (from our standard menu) every Tuesday – includes one bottle of wine'.  This is a great competition, with consistently good results.
Winning Wednesday
A broader competition, with prizes from any company.  The perfect option for shops or retail outlets, looking to promote specific offers, eg. 'Buy one, get one free'.
Basically, people like 'freebies'.  Competitions are a great way to raise awareness.
CONTACT
If you are considering advertising anywhere on the Costa del Sol right now – talk to us first, for a FREE impartial view on how to get the best from your marketing budget.  Our business is making your business grow!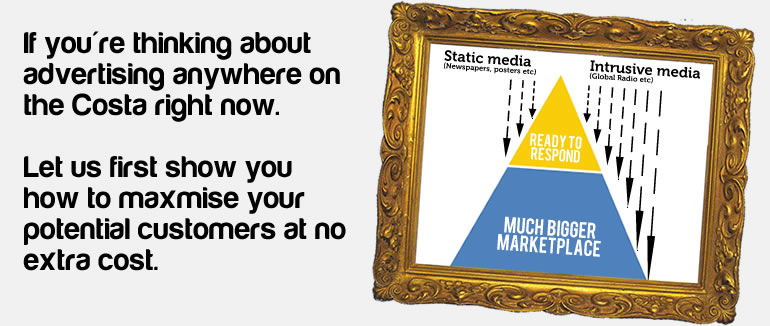 Summary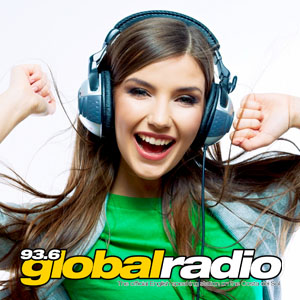 Service Type
Provider Name
Area
Description
Radio Advertising in Spain. Cost efficient marketing and advertising..