This competiton is now closed.
Congratulations to Steve in Fuengirola!!!  We played The Getaway Tripleplay on Thursday 26th November just after 11.30am, Steve was our winning caller and will be enjoying a 7 night stay at Club La Costa World.
Keep listening for more great competitions and prizes!
———————————————————
The Getaway Tripleplay. Win a seven night family holiday with Club La Costa World – keep listening, it could happen at any time!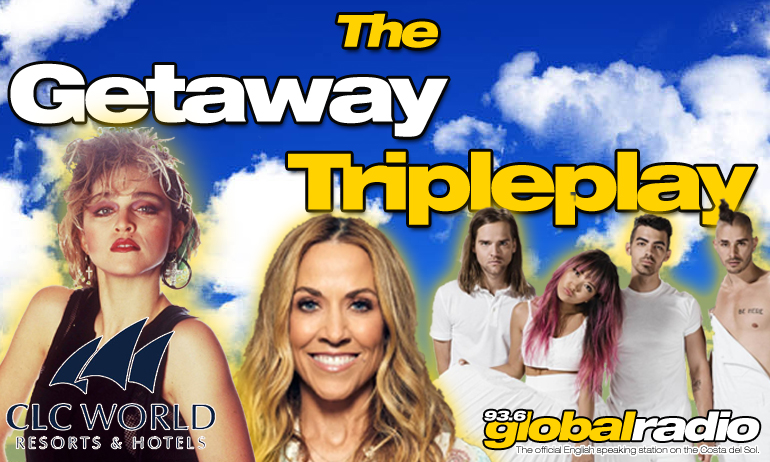 The Getaway Tripleplay
We're giving away a family holiday!  Choose between 7 nights in Tenerife or on the Costa Del Sol at a luxurious Club La Costa World resort.  Our lucky winners will stay in a luxury two bedroom self catering apartment!
How To Win
Simply keep listening to 93.6 Global Radio for The Getaway Tripleplay!  When you hear these three songs in this order, be the first to call and connect with the studio on 6 936 63366 (normal mobile rates apply, this isn't a premium line) and you'll win!
Madonna – Holiday
Sheryl Crow – Soak Up The Sun
DNCE – Cake By The Ocean
It could happen at anytime between now and the 30th November!  Remember, you're listening for these three songs, played in full, in this order!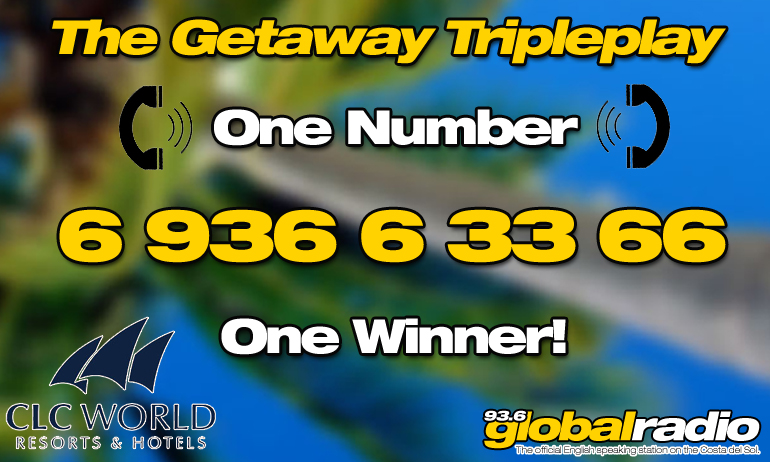 *please note we can only accept the winning call on the number given, as a normal phone call.  For this competition we can't accept calls or messages through Whatsapp, or text messages.
The Getaway Tripleplay on 93.6 Global Radio, with Club La Costa World – discover a world of fabulous holidays!
You Choose The Destination!
The winner will be going on a family holiday for up to 4 people, at either California Beach on the Costa Del Sol or CLC Paradise in Tenerife *flights not included.
California Beach, Costa Del Sol
You could choose to holiday at this multi-award winning resort within the Club La Costa world complex.  Your two bedroom apartment is one from the premier range!
Beautifully-designed apartments set in lush, sub-tropical gardens
Open-plan living room and dining area, attractive bedrooms
Fully fitted and equipped kitchen
State-of-the-art facilities for comfort and relaxation
Distinctive interiors with air-conditioning
Wi-Fi, Satellite TV and audio equipment provide a 'home-from-home' feel
Spacious terraces, balconies and terraces are the perfect place to sunbathe, dine al fresco or
enjoy a sundowner
Beautiful free-form, heated central pool with spacious sun terraces and water features
Elevated position, between Marbella and Malaga boasts amazing views of the coastline
below
Home to Safari Restaurant – probably one of the most exotic restaurants on the Costa del Sol,
offering a wide choice of delicious cuisine from all over the world. As the sun sets over the
Mediterranean, enjoy an exotic cocktail beside the pool or relax on the spacious terrace.
Free live entertainment is scheduled throughout the week.
Other resort facilities and activities:
Bar
Children´s pool
Mini market – for all your self-catering needs
Hot tub
Maid service
Mini golf
Parking
Pool table
Sports courts
Table tennis
Tennis Courts
Wifi
24- hour Security
Stay close to home or invite your family over for a break, either way a wonderful change of scenery is
there to be enjoyed.
CLC Paradise Tenerife
Paradise is a CLC World award winning resort on Tenerife. Located just a short drive from the
marina at Puerto Colon and the lively town of Playa de las Americas, there's a range of sandy
beaches with water sport activities just minutes away.  Your two bedroom apartment is one from the premier range!
Intimate family-friendly resort
Self-catering with all you need for a week's holiday in your apartment
Comfortable open-plan living
Panoramic sea views from many of the apartments
Free-form, heated swimming pools
Spacious private balconies
Resort activities and facilities:
Restaurant – Zacary's, by the main pool, offers a range of varied and delicious dishes
throughout the day. In the evening, Zacary's is an á la carte restaurant, where guests
taste a selection of intriguing local cuisine, from sizzling grilled steaks to authentic
Spanish casseroles.
Bar
Children´s pool
Mini market – for all your self-catering needs
Games court
Hot tub
Laundry facilities
Maid service
Mini golf
Parking
Petanque
Pool table
Table tennis
Wifi
24- hour Security
Discover Tenerife
Tenerife has incredible natural landscapes as well the resort towns of Los Cristianos and Playa de las
Americas
Mount Teide – Spain's highest peak, geological park with volcanic landscape.
Dolphin and whale watching – one of the best places to see these wonderful animals
Ocean – great for water sports: deep-sea fishing, scuba diving, kitesurfing and jet-skiing
Want to be active – hiking, cycling, mountain biking, swimming, canyoning, water sports
Great beaches
Pop over to La Gomera – A beautiful island off the coast of Tenerife, La Gomera is green,
fertile and popular with nature lovers. The wooded areas have been declared a UNESCO
World Heritage Site and for those who love to hike, there are a number of paths crossing the
slopes. The last place that Christopher Columbus stopped at before heading off in search of
the new world in 1492, La Gomera is a fabulous day trip from Tenerife.
History and Culture
Santa Cruz – great museums, architecture, restaurants and of course the world's second
largest Carnival (though not in 2021).
La Orotava has street after street of beautiful traditional houses leading the town centre to
be declared a Historic-Artistic Site. Formerly home to the island's aristocrats, the
architectural treasures include churches, monasteries and convents and the highlight – Casa
de los Balcones. Lots to explore here, with stylish restaurants and if you visit during the Feast
of Corpus Christi, the streets are covered in a carpet of flowers
Nightlife and Activities
Large sandy beaches, all-inclusive resorts and a nightlife that will leave you sleepy by the
pool for a day or two
Los Cristianos old town still has hints of the fishing village it used to be, while Playa de las
Americas is vying to be the Las Vegas of Spain with fake pyramids, dazzling shopping centres
and high-rise hotels
There is lots to do from the world's number 1 water park, Siam Park to the best zoo in
Europe, Loro Parque. (these are currently closed)
The Getaway Tripleplay on 93.6 Global Radio, with Club La Costa World – discover a world of fabulous holidays!
*Prize is for up to 2 adults and 2 children. Exclusive use of a two bedroom self catering apartment at Club La Costa World for 7 nights.  Some restrictions for dates may be applied by CLCWorld at their discretion.  Transport is not included in the prize. No cash alternative is offered.