Three Kings Day.  Families celebrate the arrival of the Three Kings by giving gifts and attending local events and parades.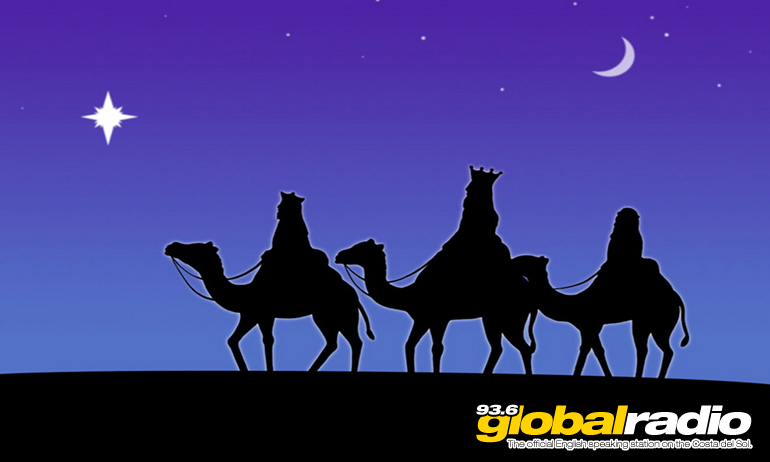 Three Kings Day
The 6th of January is a national holiday in Spain, and almost every town and community will be holding special events.  Expect to see parades with the three kings handing out sweets and gifts to children, live music and entertainment, markets and stalls, and family fun.
Arrival Of The Three Kings
The Three Kings arrive every year in villages, towns and cities throughout Spain for the annual parade.  This usually starts at sunset on the 5th of January. Melchor, Gazpar and Baltasar (the African king) take part in the parades, and they don't come empty handed. As the Kings parade through the towns with their entourage of locals smiling and waving from trucks, trailers and even floats they hand out handfuls of sweets to the children waiting in the street.
Nativity Sets
Families now set up their nativity scene in such a way as to be able to move the images of the wise men closer and closer to Bethlehem over the Christmas season. The idea is to have them arrive at the stable right on the 6th.
Three Kings Breakfast
Breakfast is a special occasion on January 6th with the Three Kings' Cake at the centre. This is a sweet bread that is adorned with dried fruits and sugar. Inside, bakers will hide a small prize wrapped in paper as well as a bean. The one who finds the lucky prize is supposed to be King or Queen for the day (a gold paper crown is often provided with the cake) while he who ends up with the unlucky bean is expected to pay for next years Kings' Cake!
Public Holiday
January 6th is a very special day throughout our region as it is a day for family to come together for a special meal, gift exchanges and time together. It is very much like Christmas Day in other parts of Europe. The 6th of January is a public holiday in Spain.