Bomberos Rescue Vulture.  The Mijas fire service have rescued a vulture from a rooftop in La Cala.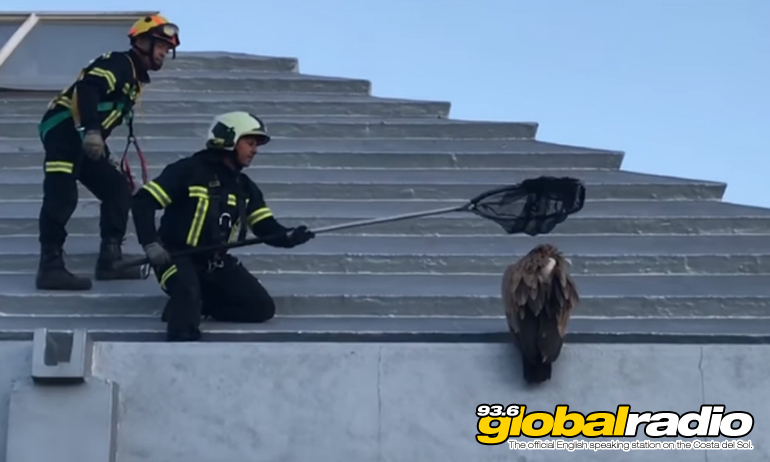 Bomberos Rescue Vulture
The Mijas fire service were called to a restaurant in La Cala, where an unexpected guest had it made itself at home.  A Griffon vulture was spotted on the roof, and the bomberos were called in to help.  The vulture may have been injured or debilitated, as they would not normally stop in populated areas.
The firemen were able to capture the vulture with a net.  It was then taken to a specialist centre in Malaga for treatment before being released back into the wild.  You can see a video of the rescue here:
Bomberos de Mijas realiza el Rescate de un Buitre. #Mijas #Malaga.🚨🚒💨

Posted by Bomberos de Mijas on Friday, November 8, 2019
Griffon Vultures In Spain
There have been other sightings of vultures over the weekend in Torremolinos and in Fuengirola.  The Griffon vulture is common in many areas of Spain, with over 3000 breeding pairs currently living in the country.
Published: 11.11.2019
Written by Dave James
News on 93.6 Global Radio
Keep up to date with all the latest news from the Costa del Sol with the coast's official English speaking radio station, 93.6 Global Radio.
More Costa del Sol News Stories
Some recent headlines from the Costa del Sol. See all the 93.6 Global Radio News