British Driver Films Horror Crash.  Lorry driver pushes car driven by terrified woman for almost 2km before coming to a halt.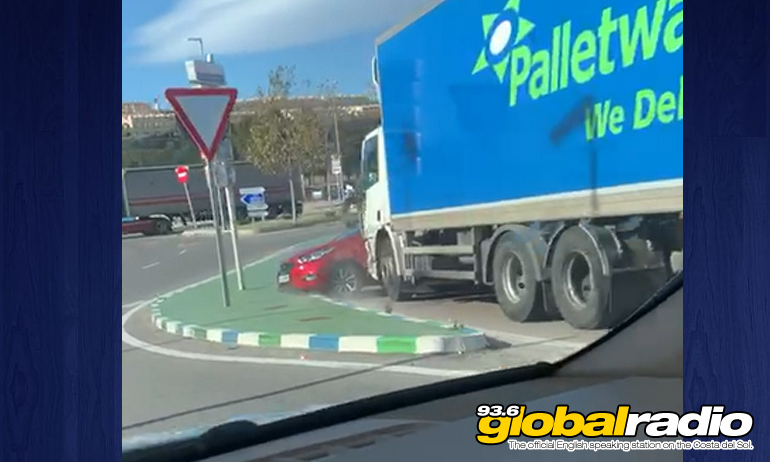 British Driver Films Horror Crash
A terrified Swedish driver has been involved in a horror crash with a Spanish lorry on the A7 at La Cala de Mijas.  The lorry connected with the red car, and then pushed it for almost 2km before a British motorist alerted the driver.
Crash Caught On Camera
The shocking incident was captured by British TV Chef Steven Saunders who was driving behind the lorry when the crash happened. Steven told 93.6 Global Radio "Some news outlets are saying the lorry pushed the car for 200 metres, but that's wrong.  It was almost 2 kilometres.  You can see the marks on the road".
"The lorry driver says he didn't even know the red car was hooked to the front of his lorry.  It's unbelievable.  I'm amazed the woman in the car wasn't killed.  She was crying when I got to her, absolutely terrified" Steven says.  "He says he didn't feel the impact, and didn't know he was pushing the red car along.  I don't know how he couldn't have felt it or seen the red car.  He seemed to have no awareness.  You can hear me hooting in the video trying to get his attention."
Police Investigations Are Ongoing
The lorry driver is blaming the Swedish woman for the accident, though she maintains that she was not at fault.  Police are now investigating the crash and have not yet released any further information.
Published: 14.12.2019
Written by Dave James
News on 93.6 Global Radio
Keep up to date with all the latest news from the Costa del Sol with the coast's official English speaking radio station, 93.6 Global Radio.
More Costa del Sol News Stories
Some recent headlines from the Costa del Sol. See all the 93.6 Global Radio News