Dangerous Costa Del Sol Caterpillar Warning.  Residents are being warned about the toxic pine processionary caterpillar which is thriving on the Costa Del Sol after the mild winter.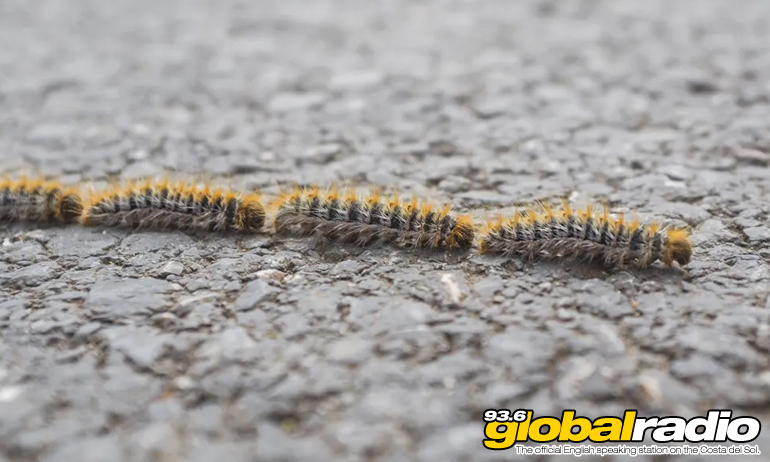 Dangerous Costa Del Sol Caterpillar Warning
Residents on the Costa Del Sol are being warned about a dangerous type of caterpillar which is thriving after Spain's unusually warm and dry winter.  Contact with the pine processionary caterpillar can cause dermatitis, eye damage and severe allergic reactions.  For pets any contact with these caterpillars can be fatal.  Symptoms which may be presented include breathing difficulties, vomiting and foaming at the mouth.
It is possible to be affected by the caterpillars even without direct contact.  The caterpillars shed as many as 500,000 tiny hairs when threatened.  Jorge Galvan, director of the Spanish Pest Control Association (ANECPLA), says "Just touching one hair is enough to cause irritation and allergies, especially around the eyes". 
Pine Processional Caterpillar
The preferred habitats for the Thaumetopoea Pityocampa (pine procession caterpillar) are areas with dense pine trees. These caterpillars move in lines, giving an almost snake like appearance. They are 3 to 4 centimeters long.  Tiny bristles laden with a toxic chemical cover the caterpillars. If your children or pets come into contact with these caterpillars you should visit a clinic or vet immediately.
Published: 02.03.2023
Written by Dave James.
News On 93.6 Global Radio
Keep up to date with all the latest news from the Costa del Sol with the coast's official English speaking radio station, 93.6 Global Radio.
More Costa del Sol News Stories
Some recent headlines from the Costa del Sol. See all the 93.6 Global Radio News