Forest Fire Under Control.  Fire fighters have managed to bring the blaze in the Sierra Bermeja area "under control".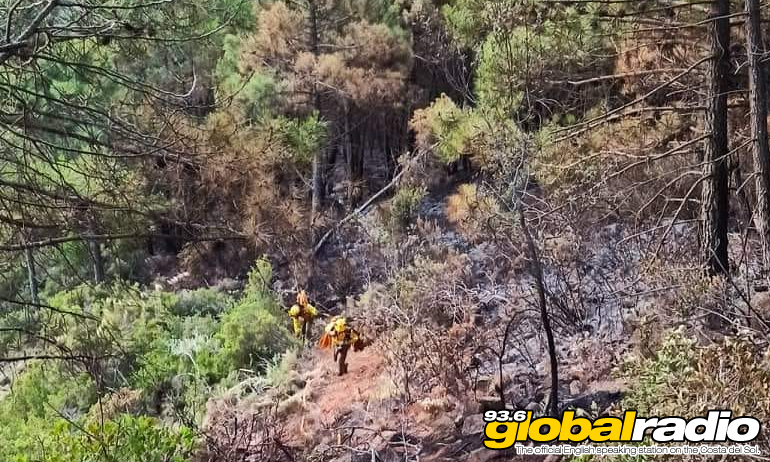 Forest Fire Under Control
The devastating forest fire which has been burning for more than a week in the Sierra Bermeja area has been declared "under control".  Fire fighters are now concentrating on damping down the remaining flames and preventing new pockets of fire from forming.
The blaze has decimated 4866 hectares of land (almost 49 square kilometres) in the Pujerra and Benahavis areas.  Guardia Civil have arrrested four people over the fire which experts believe was started accidentally.  The four men are thought to have been working in the grounds of La Resinera without the neccessary paperwork, using heavy machinery which may have sparked the blaze.   The fire spread quickly because of  high temperatures, low humidity, and 40 km/h winds.  The 6500 hectare La Resinera estate is owned by the Libyan Foreign Bank.
Injured Fire Fighters Recovering
Three fire fighters were seriously injured whist tackling the blaze, but they have all now been released from hospital and are recoving at home.  There are still 62 specialist fire fighters working on the ground along with air support damping down the area.
At it's most severe point on Thursday afternoon last week the fire was advancing at a rate of 30 metres per minute and almost 1000 people were involved in the fight to stabilise the blaze.   Spokeperson Carmen Crespo says that "there is still work to be done to control and extinguish this fire".  ç
Residents Return To Their Homes
Many of those who were forced to leave their homes on Thursday were allowed to return on Friday afternoon.  Director Juan Sanchez explained  "We are going to continue working on a perimeter that in principle is no longer advancing and that does not pose a danger to the population , therefore we are taking a weight off our shoulders and also freeing up troops for the surgical work that we have to do in the mountains."
The fire broke out at 5.30pm on Wednesday 8th June and spread rapidly.  Almost 5000 hectares of land have been consumed by the fire.  The fire was burning in the Pujerra area to the south of Ronda and the Benahavis area to the north of Puerto Banus.
The first major fire of 2022 is bringing back memories of the Sierra Bermeja blaze last summer which decimated a huge area.
Published: 17.06.2022
Written by Dave James
News on 93.6 Global Radio
Keep up to date with all the latest news from the Costa del Sol with the coast's official English speaking radio station, 93.6 Global Radio.
More Costa del Sol News Stories
Some recent headlines from the Costa del Sol. See all the 93.6 Global Radio News