Hail And Floods Hit Costa Del Sol. See photos and video of flooding and hail in Andalucia, as the weather warning is upgraded to Amber.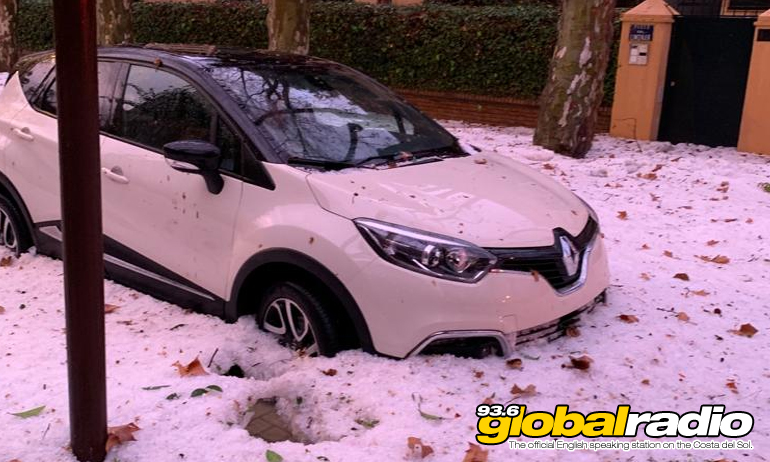 Hail And Floods Hit Costa Del Sol
The weather warning in place for the Costa Del Sol has now been upgraded to an Amber Alert, which is the second most severe option.  The warning remains in place until Saturday.  Many parts of the Costa Del Sol have experienced torrential rain with thunderstorms, and some places have been hit by hail stones and floods.
Animal Rescue Appeal
Local animal rescue organisation PADS have been hit by flooding at their Mijas base and are appealing for help.  The charity is looking for volunteers to foster dogs for a few days until the centre is made safe.  If you can help please contact PADS on 689 75 72 16
In Alhaurin rivers of hail have been filmed flowing through the streets.
Granizada apoteósica en #Coín, donde se llevan registrados más de 110 mm en las últimas 2 horas. pic.twitter.com/tZL3uWDvk2

— Storm Málaga (@Storm_Malaga) January 23, 2020
In Malaga many roads have been affected and some schools have been closed today.
In Alhaurin El Grande over 45 litres of rain fell in just 4 hours.
45 litros más. En solo 4 horas. Dejo pequeño vídeo del momento de mayor intensidad, grabado desde mi casa. #AlhaurínelGrande @Storm_Malaga pic.twitter.com/ngYeZZqOzM

— José María Díaz Bravo (@Diaz_Bravo) January 23, 2020
If you have any photos to share with us, please email dave@global.fm
Malaga Airport Delays
Adverse weather conditions can sometimes cause delays at Malaga airport.  Check which flights are affected with our live flight tracker here.
Types Of Weather Warnings
Yellow: Be aware. Severe weather is possible over the next few days and could affect people in the concerned area. Yellow means that you should plan ahead thinking about possible travel delays, or the disruption of your day-to-day activities.
Amber: Be prepared. There is an increased likelihood of bad weather affecting people in the concerned area, which could potentially disrupt people's plans and possibly cause travel delays, road and rail closures, interruption to power and the potential risk to life and property.
Red: Take action. Extreme weather is expected. Red means people in the concerned areas should take action now to keep themselves and others safe from the impact of the weather. Widespread damage, travel and power disruption and risk to life is likely.
Published: 23.01.2020
Written by Dave James
News on 93.6 Global Radio
Keep up to date with all the latest news from the Costa del Sol with the coast's official English speaking radio station, 93.6 Global Radio.
More Costa del Sol News Stories
Some recent headlines from the Costa del Sol. See all the 93.6 Global Radio News