Local Musicians Set To Rock The Lockdown.  Being locked down isn't stopping these Costa Del Sol musicians from entertaining music lovers from their own homes.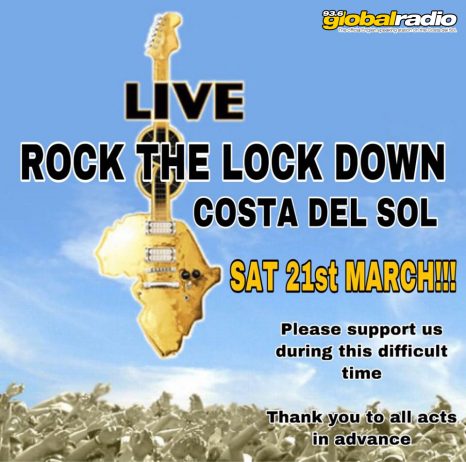 Local Musicians Set To Rock The Lockdown
This weekend popular local musicians will be taking part in an online music festival called Rock The Lockdown.  Starting at 3pm on Saturday, this Facebook event promises to bring smiles and cheer to people all who have been unable to enjoy live music since the lockdown began last weekend.
Rock The Lockdown is the brainchild of local musicians Ollie Hughes and Lucy Pardoe, best known for their Rock Of The Ages act and Ollie's Robbie Williams tribute.  Lucy told 93.6 Global Radio that she's overwhelmed by the support the idea is receiving.  "It's incredible.  We started this thing expecting a couple of thousand people to join us and enjoy some some live music.  In just a couple of days the number of people in the group has swelled to over 90,000!  We can't wait to make this thing happen over the weekend!"
At 3pm on Saturday 21st March the new Facebook group will begin a live stream where you can see musicians performing live from their own homes!  Rock The Lockdown will continue throughout Sunday 22nd of March!
Some of the acts already confirmed to perform are:
Rock Of The Ages
Dave Fento from "The Vapours"
Mark Connor
Layla
Dennis Cook
Dellacoma
Laura Elen
Alex Avery
Ben James
Nathan Dean
Laura Carter
Siobhan Tierney
Orla Tierney
Written by Dave James
News on 93.6 Global Radio
Keep up to date with all the latest news from the Costa del Sol with the coast's official English speaking radio station, 93.6 Global Radio.
More Costa del Sol News Stories
Some recent headlines from the Costa del Sol. See all the 93.6 Global Radio News