Magnificent Eagle Owl Rescued In Malaga.  An eagle owl has been rescued from a barbed wire fence at a reservoir near Malaga.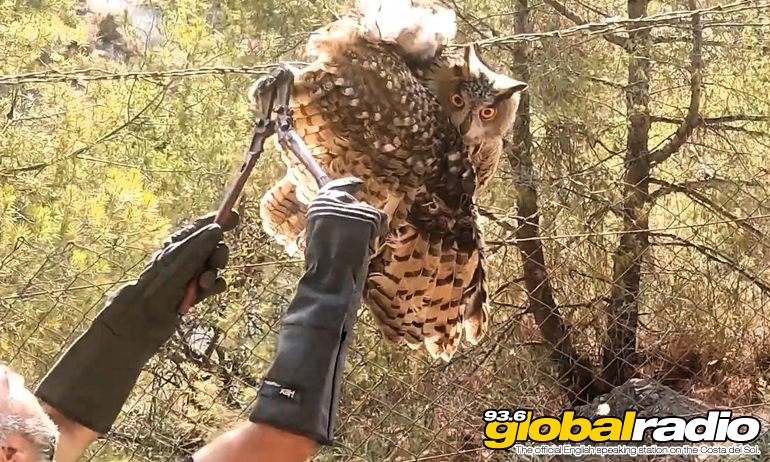 Magnificent Eagle Owl Rescued In Malaga
Experts from Malaga's nature protection group (a division of the local police) have rescued a Eurasion eagle owl which had become caught in a barbed wire fence.  A member of the public walking near El Limonero reservoir on Sunday saw the owl in distress and contacted emergency services.
Wire cutters were used to free the owl, which was then taken to a specialist animal care centre in Malaga.  Veterinarians were able to remove pieces of barbed wire from the owl's feathers and give it treatment for it's injuries.  It has now been transferred to CREA (a specialist facility for endangered animals) where it will be monitored before being returned to it's natural habitat.
Eurasian Eagle Owl
The Eurasian eagle owl is one of the largest species of owls living in Andalucia.  They can grow to 75cm tall, with a wingspan of up to 188cm.  They prefer to live in rocky mountainous areas, where they hunt for prey at night.  The eagle owl will usually eat rodents and small rabbits.  On average they live for 15 to 20 years in the wild.
Published: 24.10.2023
Written by Dave James.
News On 93.6 Global Radio
Keep up to date with all the latest news from the Costa del Sol with the coast's official English speaking radio station, 93.6 Global Radio.
More Costa del Sol News Stories
Some recent headlines from the Costa del Sol. See all the 93.6 Global Radio News