Norovirus Hits Costa Del Sol. A batch of contaminated mussels has caused an outbreak of the winter vomiting bug.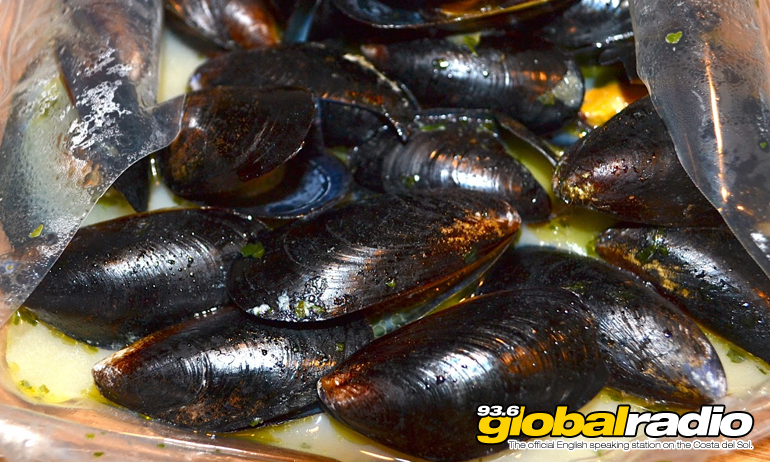 Norovirus Hits Costa Del Sol
A batch of contaminated mussels brought to the Costa Del Sol from Valencia has caused an outbreak of the winter vomiting bug known as the norovirus.  Spanish Agency for Consumer Affairs, Food Safety and Nutrition has warned that frozen mussels from the batch labelled 010DOP-18 should be thrown out immediately.
The frozen mussels were sourced in Galicia, and are called Mejillón media concha súper, under the Estrella Polar brand.
What Is Norovirus?
The highly contagious norovirus can tear through cruise ships, classrooms, and other crowded spaces, leaving vomiting, diarrhea, and stomach cramps in its wake. It spreads easily through food and drink.
People become infected with noroviruses when they eat or drink contaminated foods and beverages. Raw or undercooked oysters and raw fruits and vegetables have been implicated in some outbreaks. You can also get infected if you touch an object or surface that has been infected with the virus and then touch your nose, mouth, or eyes.
Norovirus Symtpoms
If you come down with a norovirus infection, you'll probably go from feeling completely healthy to absolutely miserable within a day or two after being exposed. Typical symptoms include nausea, vomiting (more often in children), watery diarrhea (more often in adults), and stomach cramps.
Other norovirus symptoms include:
Low-grade fever
Chills
Headache
Muscle aches
Fatigue
Treating Norovirus
Noroviruses, like other viruses, don't respond to antibiotics, which are designed to kill bacteria. No antiviral drug can treat noroviruses, but in healthy people, the illness should go away on its own within a couple of days. Most people don't have any long-term problems from the virus.
Sufferers should drink plenty of liquids, especially water and juices. Give children an oral rehydration solution  to replace lost fluids and electrolytes. Avoid sugary drinks, which can make diarrhea worse, as well as alcohol and caffeinated beverages, which can dehydrate you further.
Norovirus Prevention
Good hygiene is the key to preventing a norovirus infection, especially when you are close to a lot of other people.
Wash your hands often with soap and water for at least 20 seconds, especially after going to the bathroom or changing a baby's diaper, and before you prepare or eat food. Alcohol-based cleansers are not as effective as soap and water.
Carefully throw away any contaminated items such as tissues and  paper towels.
Wash raw fruits and vegetables thoroughly. Cook oysters and other shellfish before eating them.
Clean and disinfect surfaces with a mixture of detergent and chlorine bleach after someone is sick.
If you have norovirus, don't prepare food for at least 2 to 3 days after you feel better. Try not to eat food that has been prepared by someone else who is sick.
Published: 16.04.2018
Written by Dave James
News on 93.6 Global Radio
Keep up to date with all the latest news from the Costa del Sol with the coast's official English speaking radio station, 93.6 Global Radio.
More Costa del Sol News Stories
Some recent headlines from the Costa del Sol. See all the 93.6 Global Radio News