Rare Turtles Hatch On Costa Del Sol.  Loggerhead sea turtles have been born on Cabopino beach.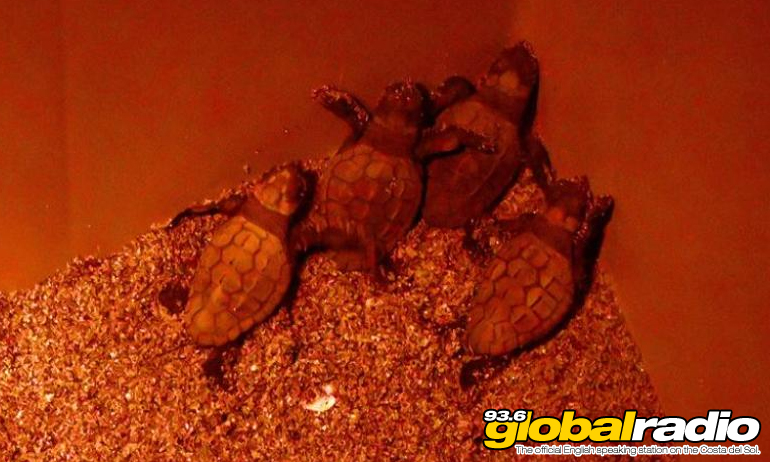 Rare Turtles Hatch On Costa Del Sol
Rare loggerhead turtles eggs have hatched on the beach at Cabopino on the Costa Del Sol.  Experts are excited and delighted by the news, which they say is extraordinary.  The eggs were laid near Fuengirola, and moved to a safer location where they could be monitored.
Eggs Laid At Los Boliches
On the 3rd August a loggerhead turtle laid 73 eggs in a hole in the sand at Los Boliches, Fuengirola.  There are no records of any other loggerhead turtles settling on the Costa Del Sol in the last 80 years.  Unfortunately, the eggs were laid too close to the ocean where they would be at risk from rising tides, and also from tourist activities on the beach.  The Andalusian Marine Sustainable Management Centre decided to move the eggs, with the help of the Fuengirola town hall.
Released Into The Ocean After A Year
A site was identified at Cabopino, where the eggs were taken and placed in an incubator.  They have been watched carefully by a team of volunteers, who were delighted to be present as the first eggs began to hatch.  The baby turtles have now been transported to Algeciras where they will be cared for in a facility for a year.  They will then be released into the ocean.
Published: 25.09.2020
Written by Dave James
News on 93.6 Global Radio
Keep up to date with all the latest news from the Costa del Sol with the coast's official English speaking radio station, 93.6 Global Radio.
More Costa del Sol News Stories
Some recent headlines from the Costa del Sol. See all the 93.6 Global Radio News