The Malaga Province Municipalities With Reduced Restrictions.  Here is the complete list of municipalities in Malaga Province where shops and restaurants can open until 9.30pm.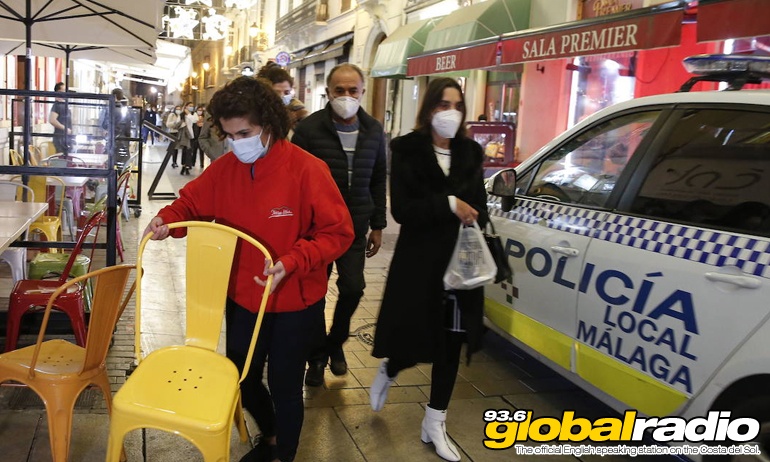 The Malaga Province Municipalities With Reduced Restrictions
As the coronavirus incidence rate continues to fall throughout Andalucia, restrictions are being reduced.  Throughout Andalucia, the number of people permitted as social gatherings is being increased from 4 to 6, except inside bars and restaurants where the limit remains at four.
Many municipalities in Malaga Province are now at Alert Level 2.  This means that they are now able to relax their restrictions.  Shops, bars, and restaurants can remain open until 9.30pm.   The municipalities where businesses can stay open until 9.30pm are:
Alameda
Alcaucín
Alfarnate
Alfarnatejo
Algarrobo
Alhaurín de la Torre
Alhaurín el Grande
 Almáchar
Almargen
Almogía
Álora
Alozaina
Antequera
Árchez
Archidona
Ardales
Arenas
Benamargosa
Benamocarra
Campillos
Cañete la Real
Canillas de Aceituno
Canillas de Albaida
Carratraca
Cártama
Casabermeja
Casarabonela
Coín
Colmenar
Comares
Competa
Cuevas Bajas
Cuevas de San Marcos
Cútar
El Borge
Frigiliana
Fuente de Piedra
Guaro
Humilladero
Iznate
Macharaviaya
Malaga City
Moclinejo
Mollina
Monda
Nerja
Periana
Pizarra
Rincón de la Victoria
Riogordo
Sadella
Salares
Sayalonga
Sierra de Yeguas
Teba
Tolox
Torrox
Totalán
Valle de Abdalajís
Vélez-Málaga
Villanueva de la Concepción
Villanueva de Tapia
Villanueva del Rosario
Villanueva del Trabuco
Viñuela
Yunquera
The Costa Del Sol health district remains at level three, and the Ronda district is at level four.  The Junta will make the next review on Thursday 11th March.
Published: 05.03.2021
Written by Dave James.
News On 93.6 Global Radio
Keep up to date with all the latest news from the Costa del Sol with the coast's official English speaking radio station, 93.6 Global Radio.
More Costa del Sol News Stories
Some recent headlines from the Costa del Sol. See all the 93.6 Global Radio News