Beaches Blockaded By Tax Protesters. Costa Del Sol beaches are inaccessible today due to a blockade by protesters demanding the government scrap the new sand replenishment tax.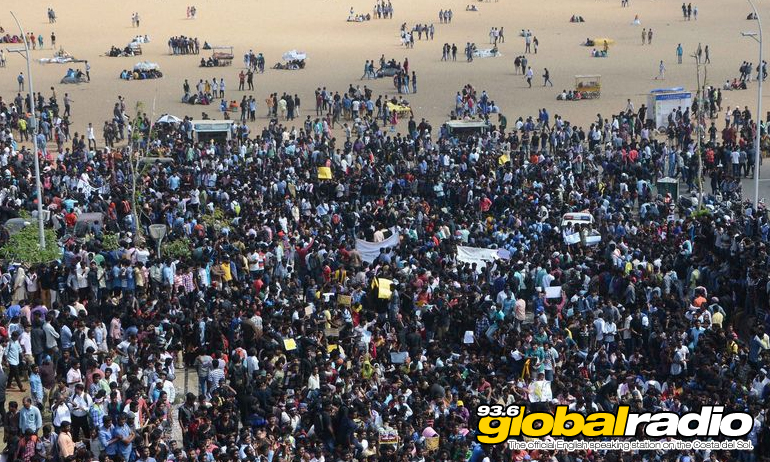 Beaches Blockaded By Tax Protesters
Protesters have closed off several popular beaches on the Costa Del Sol, as they protest about a new government tax.  Tourists and locals are unable to access key beaches in Estepona, Marbella, La Cala, Fuengirola, Benalmadena, and Torremolinos.
The local government have introduced a new tax which aims to create enough funds to protect beaches from erosion.  The Sand Replenishment Tax is being referred to as the "sand tax", and is drawing criticism from people who have noticed a €15 payment has been taken from their bank account this morning.
Bank Accounts Raided
The tax has been rushed through by the government, coming into effect today.  Every Costa Del Sol resident who lives within 15km of the coastline is liable to pay €15 a month.  The tax has already been taken out of the bank accounts of everyone with an address which falls into this criteria.  Those without bank accounts are being urged to present the money at their nearest Policia Local station before 12pm.
Importing Sand To Spain
The tax has been introduced to counter the costs of coastal erosion on the Costa Del Sol.  Chris Rea from the Fuengirola Open Ordnance Licensing explains "Due to global warning, the currents in the Mediterranean have become much stronger in the last year.  This has resulted in sand literally being washed off our beaches and deposited further up the coast on the Costa Blanca."
"In order to maintain the quality of our beaches here on the Costa Del Sol, it will be necessary to replenish the sand this year.  To make sure our beaches remain world class, we have decided to import sand from Rial Foplo, a reputable company based in Switzerland.  Everyone knows that Switzerland has the highest quality sand in Europe".
Opposition From Expats
Anne Hernandez from Brexpats In Spain says this is an opportunity for Brits to stand side by side with our Spanish hosts.  "This tax hits everyone who lives here.  This protest is a great opportunity for us expats to make sure our voices are heard, and support our Spanish hosts who are equally opposed to paying this new tax."
"To make it worse" Anne continues "We're also being told  that sand castle building is now going to be regulated.  Anyone who wishes to build a sand castle on a beach here is going to have to submit architects plans to the town hall before building work can begin".
Tony Bluff from Birmingham now lives in Benalmadena.  He told us "This is atrocious.  I never use the beaches, that's why I'm protesting today.  I shouldn't have to pay this charge. €15 a month doesn't sound like much, but over the course of a year that's €120 which is a lot of money."
Appeals For Support
Ignacio Impuesto has organised the protests today.  He is appealing for support from everyone who will be affected by the new tax.  "Please, if you're unhappy about paying this bill, come along to your nearest beach and show support.  We'd welcome donations of hot drinks, snacks, and deodorant".
Published: 01.04.2019
Written by Dave James
News on 93.6 Global Radio
Keep up to date with all the latest news from the Costa del Sol with the coast's official English speaking radio station, 93.6 Global Radio.
More Costa del Sol News Stories
Some recent headlines from the Costa del Sol. See all the 93.6 Global Radio News