Force Eight Winds Batter The Costa Del Sol.  Emergency services have handled over 100 calls as Malaga's fishing fleet, cruise ships, driving on the A7, and sea front businesses are all affected by the strong winds.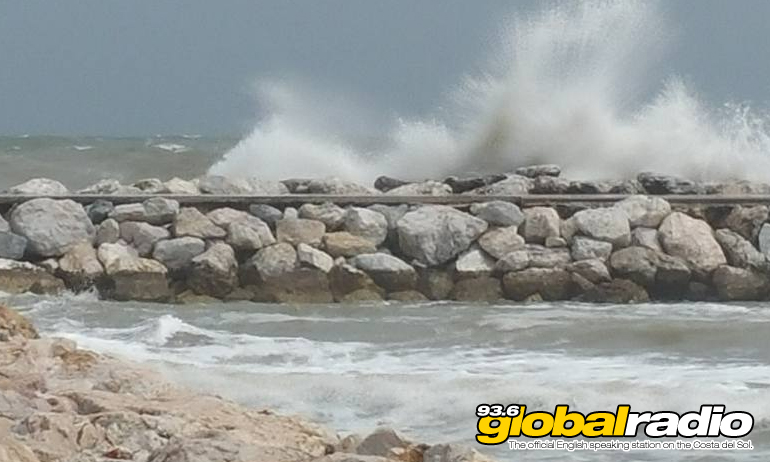 Force Eight Winds Batter The Costa Del Sol
The Costa Del Sol is being battered by force eight winds today.  AEMET placed the area on Amber Alert as winds reach speeds of up to 90 km/h on the coast. Emergency services have handled more than 100 incidents related to the wind.
Five metre waves are causing disruption at Malaga port where several cruise ships have been forced to bypass the city, or dock only for supplies and continue sailing.  There are 250 fishing boats on the Costa Del Sol, only 25 of these have been able to set sail today.  It's thought that fishing from the five main ports of Estepona, Marbella, Fuengirola, Malaga and Caleta de Vélez will not resume until Monday.
Chiringuito Flattened
Several minor injuries have been reported today as trees have fallen and signs blown over on the Costa Del Sol. The chiringuito at Bikini Beach near to Fuengirola castle has been completely flattened.  Fortunately the cafe was closed at the time and there have been no injuries. The fire brigade were called to assist staff at sea front cafe Not-A-Lot, where the wind has blown panels off their fittings.  Two staff members have been taken to hospital for checks after being hit by falling panels.  Sarah Williams says "everyone on the promenade needs to be careful today".
Published: 19.11.2021
Written by Dave James
News on 93.6 Global Radio
Keep up to date with all the latest news from the Costa del Sol with the coast's official English speaking radio station, 93.6 Global Radio.
More Costa del Sol News Stories
Some recent headlines from the Costa del Sol. See all the 93.6 Global Radio News