Malaga Moving Into Phase 2 On Monday.  The Costa Del Sol will enter phase 2 of the lockdown lifting scheduled on Monday.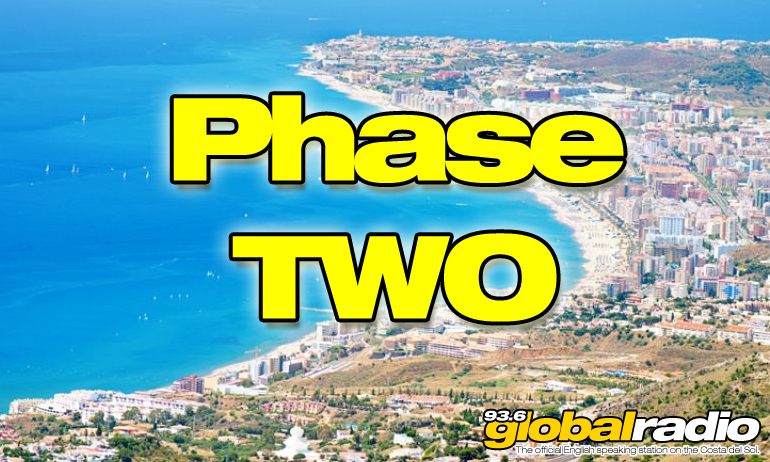 Malaga Moving Into Phase 2 On Monday
On Monday the 1st June the Costa Del Sol will join many other parts Spain by moving into phase two of the government's plan to ease the lockdown conditions.  The Health Minister, Salvador Illa, has confirmed that phase two will come into effect in Malaga after the weekend.
Moving into phase two means that more shops will be reopening, up to 40% capacity, with shopping centres also opening (with strict safety protocols).  Bars and restaurants will now be able to welcome customers inside, up to 50% of their capacity (though nightclubs must remain closed).  Social gatherings will be extended to include up to 15 people, excluding the elderly and vulnerable.
The current exercise timetable will no longer apply.  People will be able to leave the house and exercise when they choose.  It is still necessary to wear a facemask if social distancing is not possible.
Beaches Opening For Bathing
Some beaches on the Costa Del Sol will be opening for bathing and recreation.  Swimming pools will be able to open with up to 30% capacity.  Gyms will be able to open, but only for clients with appointments.
Cinemas and theatres can once again open to the public, with restricted seating for no more  than 30 people.  Churches will also be permitted to open from Monday.  Hotels will also be able to open their communal areas, up to 30% capacity with social distancing measures in place.
Published: 30.05.2020
Written by Dave James
News on 93.6 Global Radio
Keep up to date with all the latest news from the Costa del Sol with the coast's official English speaking radio station, 93.6 Global Radio.
More Costa del Sol News Stories
Some recent headlines from the Costa del Sol. See all the 93.6 Global Radio News